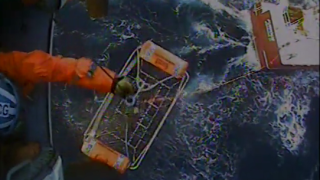 The U.S. Coast Guard medically evaluated a crew member of a Stonington-based fishing vessel after sustaining a hand injury, officials said.
The Coast Guard said they received a notification from the crew of the commercial fishing vessel Furious at approximately 3:30 a.m.
The fishing vessel was located approximately 60 miles south on Nantucket, Mass.
Officials said the Coast Guard Air Station Cape Cod MH-60 Jayhawk helicopter crew launched and safely transported the 41-year-old crew member at approximately 7 a.m.
The man was transported to Massachusetts General Hospital for care, the Coast Guard said.
Officials did not provide more details on his condition.