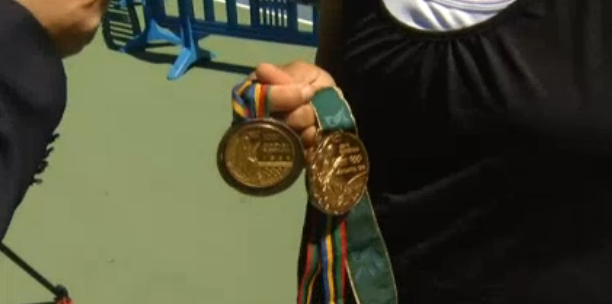 While the competition continued Tuesday at the Connecticut Open in New Haven, local Latino youth learned about tennis from an all-time great.
A pioneer in the sport from Puerto Rico, Gigi Fernandez brought some impressive hardware to share with the children.
"I have some relics," she said. "These are my gold medals from Barcelona in '92 and Atlanta in 96."
The Olympic gold medals in women's doubles tennis are just two of Fernandez's many career achievements.
"When I first retired I didn't really want much to do with tennis," Fernandez said, "I wanted to go away and have another life, and finally I just realized that I'm always going to be Gigi Fernandez tennis player. I decided to embrace it."
Now, Fernandez is an ambassador for the sport, inspiring the next generation of Latino tennis players.
"It's about exposing kids to things that they're not traditionally exposed to," said Junta Youth Community Organizer Juancarlos Soto. "Some of the kids have never even had the chance to see a tennis match or even like hold a racket."
After practicing the different skills it takes to compete, both Kiana Cintron and Karina Mullins said they're hoping to spend more time on the tennis court.
"I've never played tennis before but I want to learn as a hobby, it's fun," Mullins said.
The highlight of their day was meeting the Latina legend who won 17 major doubles titles.
"It was really crazy because I've never met anyone famous, so I was like oh my god," Cintron said of meeting Fernandez.
Fernandez said she is grateful for the chance to give back.
"I grew up in Puerto Rico, small island, smaller than Rhode Island," she said. "And I ended up in the Hall of Fame, so if you believe you can achieve."
For female tennis fans of all ages, the Courtside Club was the place to be Tuesday at the tournament.
For Girls Day and Night Out at the Connecticut Open, vendors selling tennis merchandise and fashion geared toward women took part in the Courtgirl Magazine lifestyle experience.
"This is really a great opportunity for brands that connect with us to be in front of these women and let them buy their clothes," said Courtgirl Magazine editor Marina Merzel.
Sally Calongne flew from Colorado to Connecticut to showcase Babolat's new line of women's apparel, tennis shoes and special starts and stripes tennis racket.
"It's so nice to actually meet and talk to and get instant feedback," she said.
Barbara Lecocq from Stamford is a regular Courtgirl Magazine reader who checked out the lifestyle experience.
"I am a big wannabe tennis player," she said. "Still at my age I want to play."
Lecocq found a pair of tennis shoes on sale and filled up a goodie bag.
"I got this great skirt, the shirt the bag, there's all kinds of freebies," she said. "It's been wonderful event."
For the women competing in the tournament, this is their final tune-up before the U.S. Open.
The men's legends matches are still to come this week, including Fairfield's James Blake taking on the always entertaining John McEnroe on Thursday night.