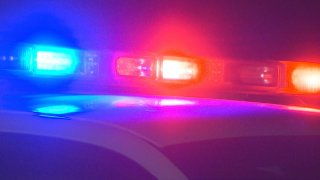 A West Hartford man is accused of throwing chemicals in the back of a garbage truck after the waste removal company refused to haul them away and has been charged after emergency crews were called for a hazardous material incident, police said.
Police and firefighters responded to Ballard Drive Wednesday after the driver from a recycling and waste removal company reported that something in the back of the garbage truck he was driving caused a chemical reaction and a white cloud began to come from the back of the truck.
Additional West Hartford Fire crews were called in, along with AMR, DEEP, EnConn Environmental Police, and a UCONN Fire HazMat team. 
Police said they determined that a homeowner had ordered a bulky trash pickup and the company refused to take some items because it was not clear what the chemicals were, but the homeowner then threw the items into the back of the open garbage truck anyway.
Crews closed down the street, which will remain closed in that area until a hazardous waste clean-up is completed.
Police said the homeowner was responsible for the cleanup and was making his own arrangements with a licensed contractor.
No one was injured, no waterways exposed and no one was evacuated, police said.
The homeowner was charged with breach of peace in the second degree, reckless endangerment in the second degree, littering and discharging with no permit.
He was later released on a $5,000 bond and is due in court on Sept. 2.
Fire officials said the disposal of household chemicals can be hazardous and there are specific procedures already in place to do so.
Part of Ballard Drive will remain closed until the cleanup is completed.
The Town of West Hartford sponsors hazardous materials waste collection days twice a year and the next one is Sept. 19, from 9 a.m. to 1 p.m. at the West Hartford Department of Public Works on Brixton Street.