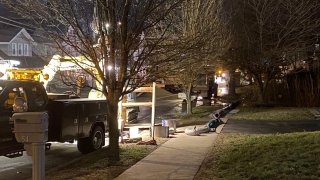 A sanitary sewer force main break is affecting several West Haven neighborhoods as crews work to make repairs.
The main break was reported Tuesday morning and crews expect to continue making repairs overnight.
Crews said the break happened in the area of Chestnut Street and Savin Avenue.
Areas impacted by the sewage main break include:
Beatrice Drive
Jessie Drive
Ida Lane
Painter Drive
Hilltop Lane
Michael Drive
The Cove River and Oyster River pumping stations are also being impacted. Chestnut Street remains closed at this time.
If sewage enters your home, city officials say you should call the West Haven Water Pollution Control Plant immediately. They can be reached at 203-937-3637.