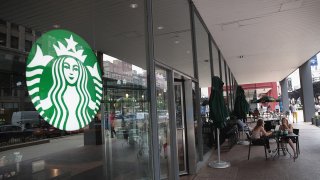 Workers at the Danbury Berkshire Center Starbucks voted to establish union representation Thursday, becoming the third Connecticut branch of the popular coffee chain to unionize.
Following an 18-1 vote in favor of unionization, employees will organize under the Starbucks Workers United union.
According to Starbucks Workers United, the union's goals include instituting a $20 base wage for all baristas, committing to non-discrimination policies and guaranteeing consistent hours, time off and breaks.
Workers at the Starbucks stores in Vernon on Talcottville Road and in West Hartford in the Corbin's Corner plaza have also voted to unionize under Starbucks Workers United.
Notably, union workers at the Corbin's Corner location took part in the recent pride month strikes, which disrupted operations at about 150 stores, according to the union.
Striking workers claimed that the company removed and restricted pride month decorations at some locations and failed to properly support LGBTQ+ workers.
Starbucks has repeatedly denied these allegations. The company has insisted that there has been no change to its pride decoration policy and also shut down claims that it does not support gender-affirming care for workers.
The company has also consistently opposed the unionization effort.
More than 300 Starbucks locations have voted in favor of unionization in total, according to the union.