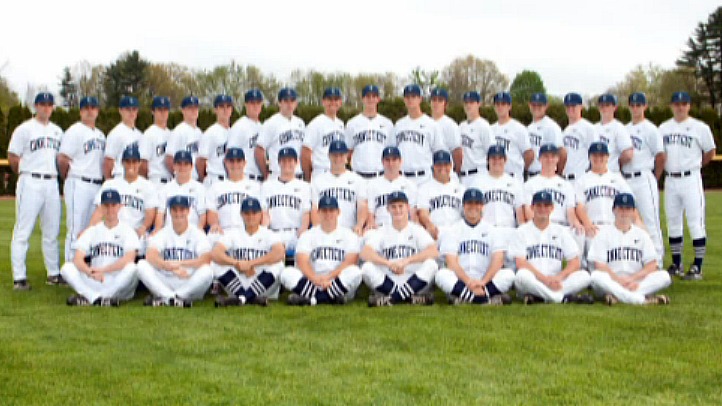 For a college athlete, few things are better than either making a run in the NCAA tournament or getting a chance to play in the pros. If you're a college baseball player, there's an added wrinkle that other sports don't get to experience.
The Major League Baseball draft falls smack dab in the middle of the college playoffs. On Monday night, those events collided for the UConn Huskies when two of the teams' stars were drafted in the first round of the draft during one of their playoff games.
The Huskies were in the middle of routing Clemson 14-1 to earn a berth in the NCAA Super Regional when the Houston Astros selected Outfield George Springer.
"I really don't have any words I can put how happy I was at the time. It's something as a player and as a kid you always dream of," Springer, a New Britain native told MLB.com. "My friend [and teammate] Matt Barnes told me in the fifth inning, and I was blown away."
Of course Barnes would have his own dream moment just eight picks later when The Boston Red Sox selected the pitcher with the 19th pick in the draft.
For both teams, reports MLB.com, the picks were all but no-brainers.
"We held our breath knowing what players would probably go off the board ahead of us," Astros general manager Ed Wade said. "There was some uncertainty as to whether Springer would be gone before we had our chances to make the pick and, fortunately, shortly before we got on the clock it became apparent he was going to be there for us. He was the best player remaining on board and it worked out the way we anticipated it would."
The Astros hope to keep Springer as a center fielder, but with his power, speed and athleticism, a corner-outfield spot could be a better fit.
The Red Sox see Barnes as a middle of the rotation starter.
"We spent a lot of time scouting him in the Cape, with Team USA. We were excited to get him. Given the fact that he was at 19, we got really excited. I'll leave it at that," said director of amateur scouting Amiel Sawdaye.
The one minor negative for Barnes is that, growing up in Bethel, just 60 miles east of New York City, his allegiance used to lie with the boys in pinstripes. Barnes' favorite player is the Yankees' Joba Chamberlain.
Springer and Barnes join Charles Nagy as the only UConn players to ever be drafted in the first round.
As for the Huskies, they are now gearing up for a best-of-three match-up with last year's national champion South Carolina Gamecocks starting Saturday. If they win that, they'll advance to the College World Series in Omaha.