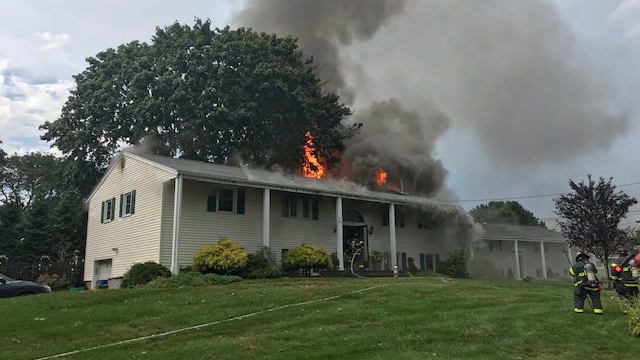 A firefighter was injured battling a fire started after a lightning strike in Norwalk Monday.
Fire officials said the firefighter was knocked unconscious when a section of ceiling fell during the call at 1 Richlee Road Monday. He was taken to Norwalk Hospital where he was in "good spirits," while undergoing tests, fire officials said.
The fire started when lightning struck the house around 4:50 p.m. By the time fire crews arrived, there was heavy fire in the rear corner of the house and flames had worked into the inside of the home. The fire spread through the kitchen, dining room and living room as firefighters managed a 120-gallon propane tank at the back of the home, which was sending a fireball into the air as it expelled through its relief valve.
One person and two dogs that were in the home escaped unharmed. Firefighters also found a cat unharmed in a downstairs laundry room.
The home was deemed unfit for occupancy. The American Red Cross responded to assist the residents.
The exact cause of the fire remains under investigation.