Our team of meteorologists have issued a First Alert for today's thunderstorm threat.
The first batch of showers and storms moved through the state in the early morning hours bringing in over an inch of rain to many inland cities and towns.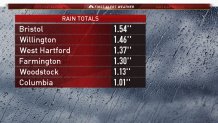 The severe weather threat is the result of a cold front that is moving through the state. The front is bringing in rain and thunderstorms to the state.
The main threat with these storms will be heavy rain, frequent lightning, small hail, and damaging winds within the strongest storms. There is also a very slight chance of a small tornado somewhere in the state.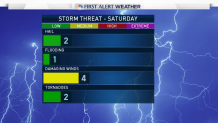 Storms will become very scattered in nature by the early afternoon hours.
In addition to the thunderstorms the cold front will also be responsible bringing in much cooler and drier air. Humidity levels will go from oppressive humidity to comfortable by Sunday afternoon. High temperatures will also be in the upper 70s and low 80s through next Wednesday.
Check the First Alert 10-day forecast to see how next week is looking.