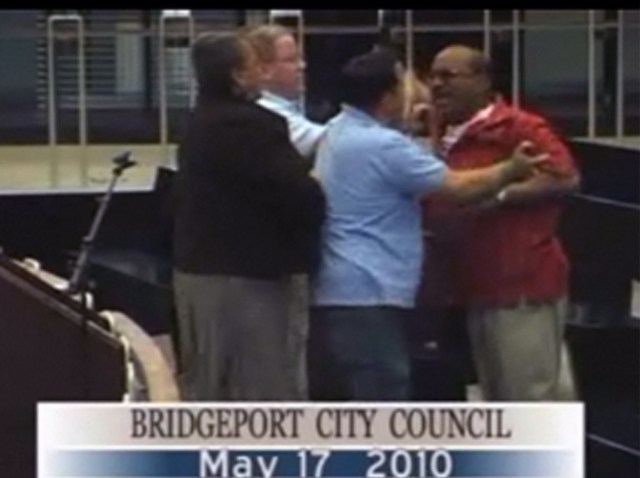 When a former city employee apparently ran out of time to speak at a Bridgeport City Council on Monday, things got ugly. That's when the shoving match began.
Cecil Young, a frequent attendee to the monthly council meetings, complained about raw sewage in the basements of the P.T. Barnum Apartments public housing complex, and health benefits he feels the city owes him, according to the Connecticut Post.
When he was long-winded, City Council President Thomas McCarthy told Young he was out of time to speak. But, Young continued to "berate council members," according to the Post, and complained that City Councilor E. Evette Brantley was "making faces" at him as he spoke.
Southern Connecticut Cablevision records as Brantley walks up to Young and they get into an "in-your-face" spat and Councilman Angel M. dePara Jr. approaches and pushes Young away from Brantley, the Post reports.
Then, other council members break up the skirmish and restrain Young as he is escorted out.
"I was so spellbound -- I didn't know whether I got hit by a bull or a wave," Young told the Post on Wednesday. "All of 'em wrapped up on me like I was some kind of damn criminal. I did not deserve that disrespect. I'm going to give them a chance ... to tell me they were wrong. But if they do not come forward, shame on them. I'll see them in court."
Brantley apologized, the Post reports, but Young filed an assault complaint against dePara and Bridgeport police are investigating.
DePara would not comment on what is now a police investigation.
After the meeting, Young's wife drove him to the Bridgeport Hospital emergency room for back pain.
Young is demanding an apology and will seek a doctor's advice about his back condition.
Mayor Bill Finch issued a statement on Thursday saying he was "unhappy" to learn about what happened before he got to the meeting.
"This unfortunate incident seems to have resulted from a misunderstanding between one of our council members and Mr. Young," he said, adding that it's distracted from positive things that happened at the meeting.

"While, at times, passions can get the better of us, it's important to remember that everyone – whether they are an elected official, or a member of the public – should maintain a level of respect and civility when dealing with one another," he said.