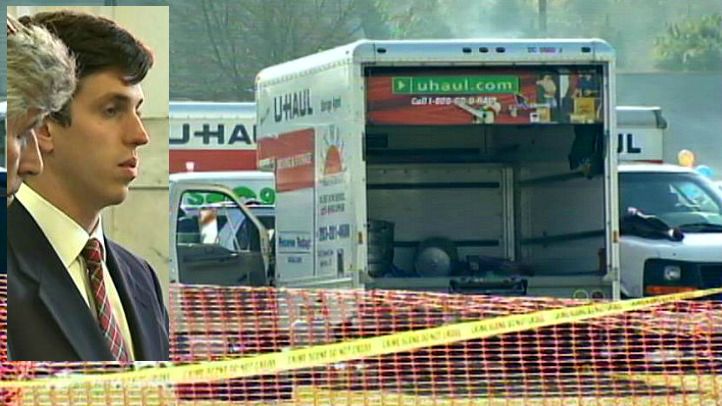 The Sigma Phi Epsilon national fraternity and members of the chapter at Yale University have been called to trial in the case of a deadly crash at a 2011 football tailgate.
Fraternity member Brendan Ross was driving a U-Haul truck during a Sig Ep-sanctioned tailgate event at the Yale Bowl on Nov. 19, 2011 when he lost control and drove the truck into a group of pedestrians before hitting another vehicle.
Nancy Barry, 30, of Salem, Massachusetts, was killed, and two other women were hurt, including Sarah Short, a Yale student at the time of the crash who is suing the fraternity and Ross.
Police said after the crash that Ross passed a field sobriety test at the scene.
"I'm sober; I'm sober," he said, according to court documents, later adding, "Oh my God, what did I do? It was an accident."
Ross was initially charged with criminally negligent homicide and was denied probation.
He later pleaded guilty to two infractions – improper start and unreasonable speed – in a deal with prosecutors. His accelerated rehabilitation ended Jan. 31, 2015.
His attorney previously said the U-Haul truck malfunctioned, but U-Haul has challenged that claim.
According to a press release from Faxon Law Group, the case will now go before a jury.
"The national fraternity was seeking to bypass the jury and move directly to judgment," Eric P. Smith of Faxon Law Group said in a statement Monday. "The court's ruling ensures the case against the national fraternity will go before a jury where we will present evidence establishing why the national fraternity is fully responsible under the law for Ross' negligent actions."
NBC Connecticut has reached out to Sigma Phi Epislon national headquarters for comment.