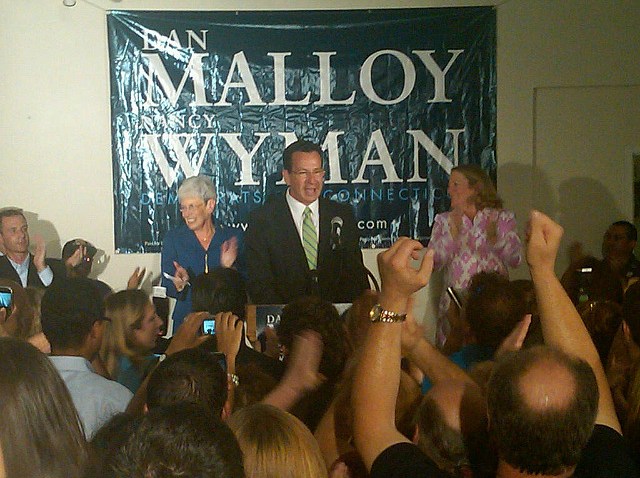 Gov.-Elect Dan Malloy has chosen the leaders of his policy working groups to begin to determine how his administration will move forward while facing a nearly $3.5 billion budget gap.
These groups are still being formed will work with Policy Transition Team co-chairs Linda Kelly and Joe McGee to gather information on their given policy areas, he said.
The committee is responsible for formulating and proposing ideas that require no new spending. They are also encouraged to suggest ideas that would cut state spending.
"We have a gigantic challenge before us -- how to balance a budget, learn how to live within our means and to begin the process of growing our economy," Malloy said.
Municipal leaders are curious about how they will be affected and Malloy said he does not want to "further damage the relationship with local government and state government."
Malloy said he won't balance the budget by slashing human services, especially as more people depend on them, but he also doesn't want to put the state at a competitive disadvantage to grow business and jobs.
Malloy said he will not raise taxes to pay for any new services, so he is asking his policy teams to find ways to fund any programs they wish to add.
Members of the working groups include:
Agriculture Working Group
Co-chairs Linda Auger and Dr. Greg Weidemann

Children's Services Working Group
Jamey Bell. Another co-chair will be announced.
Education Working Group
Co-chairs Rep. Cam Staples and Dudley Williams

Energy Working Group
Co-chairs Lee Hoffman and Kathryn Moschella
Environment Working Group
Co-chairs Gary O'Connor and Jesse Stratton
Healthcare Working Group
Co-chairs Juan Figueroa and Dr. Tony Westbrook
Housing Working Group
Co-chairs Howard Rifkin and William McCue
Human Services Working Group
Co-chairs Ron Cretaro, Terry Edelstein and Toni Fatone

Jobs/Economic Development Working Group
Co-chairs Chandler Howard and Tony Sheridan

Public Safety Working Group
Co-chairs Theresa Lantz and another to be announced
Technology Working Group
Co-chairs Richard Hegwood and Walt Krauchik

Transportation Working Group
Co-chairs Al Goff and Brian Mercure