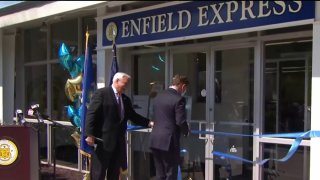 The town of Enfield is setting up a drive-through contactless tax service.
Officials said they will be using and old bank, which will allow people to pay their taxes in person amid the COVID-19 pandemic.
At 10 a.m., Gov. Ned Lamont took part in an event to launch Enfield Express, a drive-through, contactless service the Town of Enfield will operate to provide basic tax services. Beginning on June 20, the service will be available Mondays through Fridays, from 9 a.m. to 5 p.m.
The governor's office said the site will also serve as a point of distribution for personal protective equipment for area businesses.