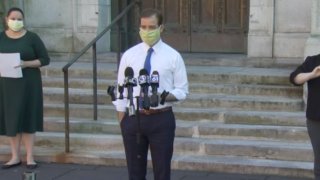 Hartford Mayor Luke Bronin announced Trinity Health of New England is one of only four hospital systems in the entire country that was approved by the U.S. Food and Drug Association to participate in a new blood plasma therapy trial to help coronavirus patients.
This trial is designed to use plasma from patients who previously tested positive for coronavirus and recovered.
Trinity Health of New England runs St. Francis Hospital in Hartford.
Dr. Latha Dulipsingh of Trinity Health Of New England said that convalescent plasma has been used since 1980s for the treatment of infectious diseases.
Dulipsingh said doctors will start by checking antibodies on individuals who have already tested positive but are now negative and have been symptom-free for at least two weeks.
Dulipsingh said they sought approval from the FDA after a paper was published 10 days ago from Chinese doctors who tested five individuals and three did very well and went home. Another paper was published from China that found seven out of 10 individuals did very well and went home after treatment.
As recently as 10 to 15 years ago, there is proof that this treatment works in infections such as H1N1, according to Dulipsingh.
Trinity Health officials said they hope they are able to help those who are in need of treatment as a result of this trial.
"We have to stay focused and disciplined and look out for one another by doing our part," Bronin said.
This treatment will involve all five Trinity Health locations, President and CEO of Trinity Health of New England Reginald Eadie said.
"We're very excited about this therapy," said. Dr. Danyal Ibrahim of Trinity Health of New England.
Dulipsingh said Trinity Health wants to make sure it is safe for individuals to receive antibodies before conducting giving transfusions, which they are hoping to start by next week.
Eadie said the hospital system has set up clinics to make appointments for teleconferences to provide support and can give prescriptions if necessary.