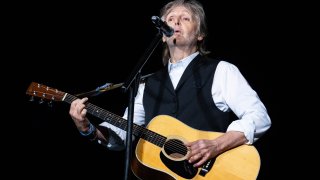 It may feel like a long and winding road for people hoping to see Sir Paul McCartney speak at Yale next week.
McCartney, half of the legendary Beatles songwriting duo with John Lennon, is coming to Woolsey Hall on Thursday, Feb. 16 to speak about his book "The Lyrics: 1956 to the Present."
It appears a lot of people want to see him that night in New Haven.
Demand for tickets crashed the university's ticketing system on Wednesday, according to the Yale Schwartzman Center, which is hosting the event.
"To ensure equity in the ticketing process, the Schwarzman Center has suspended access to all public tickets for this event until our technical team has resolved the issue," the Schwartzman Center's website reads.
The Center said it would soon set a new date and time for the ticket sales to resume. As of Friday afternoon, the issue had still not been resolved.
"To those attempting to register, we extend our sincere apologies for the frustration this issue has caused," the site read.