Jeffrey and Jeanette Navin, of Easton, have been missing since early August. Here's a look at the series of events leading up to their disappearance and the subsequent police investigation.
June 17, 2015: A court determines that Jeffrey Navin owes $139,001.49 in unpaid energy bills to Connecticut Light & Power, now known as Eversource. The bills pertain to a home in Guilford.
Summer 2015: Jeffrey Navin, 56, who runs the J&J Refuse sanitation company in Westport; and his wife, Jeanette Navin, 55, a Weston school library worker; move from Westport to Easton.
Late July 2015: The couple loses an appeal over $2.2 million in debt owed on the Guilford property. Family members have said financial issues were not a factor in the couple's disappearance.
Aug. 4, 2015: Jeffrey and Jeanette Navin stop by the Bridgeport home of their son, 27-year-old Kyle Navin. They invite him to dinner, but he complains of a back injury and declines, according to a search warrant. Police believe this interaction was the last time anyone saw the couple before they disappeared.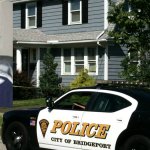 Aug. 7, 2015: Family members report Jeffrey and Jeanette Navin missing.
Aug. 9, 2015: Police find the missing couple's car in a commuter lot off Exit 42 on the Merritt Parkway in Westport. Investigators take more than a dozen swab samples from the truck, which has a shattered window, according to search warrants.
Aug. 9, 11, 13: Detectives conduct a series of interviews with Kyle Navin, during which he provides three different accounts of the day his parents disappeared, according to an arrest warrant obtained in September.
Aug. 13, 2015: Investigators conduct a court-authorized search of Kyle Navin's home on Aldine Avenue in Bridgeport. They uncover two guns, numerous rounds of ammunition, empty heroin bags, hypodermic needles and empty bottles of oxycodone and other prescription drugs, according to the U.S. Department of Justice. A search of Kyle Navin's cellphone revealed text messages discussing his use of heroin, oxycodone and Xanax. Authorities also find a Home Depot receipt for germicidal bleach, stain remover and contractor trash bags, according to an affidavit.
Aug. 19, 2015: Connecticut State Police take over the investigation into the disappearance of Jeffrey and Jeanette Navin.
Aug. 20, 2015: Sources close to the investigation tell NBC Connecticut that Kyle Navin has been named a person of interest in his parents' disappearance.
Aug. 21, 2015: Detectives search the Putnam Ash Residue Landfill, a 186-acre site used to dump ash from the state's waste-to-energy plants, but reveal few details. A source familiar with the investigation tells NBC Connecticut the search is linked to the case of the missing couple.
Sept. 8, 2015: Kyle Navin is arrested on a federal gun charge unrelated to his parents' disappearance.
Sept. 17, 2015: Kyle Navin is indicted on the federal gun charge.
Sept. 24, 2015: Kyle Navin is arraigned in federal court and pleads not guilty.
Oct. 29, 2015: Weston police uncover remains on Norfield Road in Weston. State police are called in for help and spend the afternoon searching for evidence in connection the case of Kyle and Jeanette Navin.
Oct. 30, 2015: Police announce the discovery of two sets of human remains. State police say the chief medical examiner's office is working to identify the two people. A source close to the investigation tells NBC Connecticut the remains are those of Kyle and Jeanette Navin.