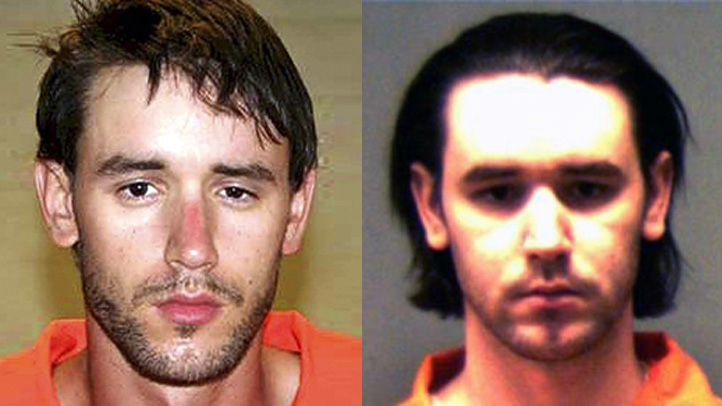 Joshua Komisarjevsky is accused of one of the most heinous crimes in Connecticut history, a gruesome home invasion in which a mother and her two daughters were killed after a night of terror in their suburban home.
As he heads to trial on capital murder charges next month, his attorneys are trying to lessen emotion in the case. They want to humanize their client, who was compared to the devil last year at the trial of his co-defendant, Steven Hayes, who was convicted and sentenced to death.
Among their many moves last week in New Haven Superior Court, defense attorneys argued that Komisarjevsky should be allowed to sit closer to the jury, where prosecutors traditionally sit. Todd Bussert, one of Komisarjevsky's attorneys, said there is a "perception that he is a monster."
"We want the opportunity to let them see him up close, to see that there is nothing to be afraid of," Bussert said. "He is a troubled young man. He made a mistake being there that night. He should not have gone into that house."
Judge Jon Blue said he would consider the request later in the proceedings and had Bussert take measurements of the distance between Komisarjevsky to jurors and between prosecutors and the jury box.
William Dow III, a prominent defense lawyer in New Haven, compared the challenges facing Komisarjevsky's attorneys to "trying to do an ice sculpture in the middle of hell."
"The defense is going to leave absolutely no stone unturned in trying to stop the execution of their client," Dow said.
Authorities say Komisarjevsky and Hayes killed Jennifer Hawke-Petit and her daughters, 11-year-old Michaela and 17-year-old Hayley, in their Cheshire home in 2007. Dr. William Petit, the girl's father, was beaten with a baseball bat but survived.
Hayes was convicted of sexually assaulting and strangling Hawke-Petit and killing the girls. Authorities say he and Komisarjevsky tied the girls to their beds, poured gasoline on or around them and set fire to their Cheshire home, leading to their deaths from smoke inhalation.
Hayes and Komisarjevsky have blamed each other for escalating the crime, but prosecutors say both men were equally responsible. Jury selection for Komisarjevsky's trial is scheduled to start March 14.
During the first trial, Hayes' attorneys portrayed Komisarjevsky as the mastermind of the crime. They described him as a home invasion specialist who wore night-vision goggles as he broke into homes with children present and bragged about breaking into a state trooper's home.
By contrast, Hayes' attorneys portrayed their client as a petty thief who took pains to avoid confrontations and was so unsophisticated he would return to a crime scene to break into cars by smashing windows with rocks.
After the crime, Hayes was so remorseful he tried to kill himself, his attorneys said. They contrasted that with Komisarjevsky's journal writings that indicated he took pleasure from the crime. Komisarjevsky wrote that the deaths of the victims broke "the enchantment" and his "physiological control" over them.
"In life their fear and sorrow was a gift we now shared," he wrote. "My nirvana lived in their life their eyes, in their emotional pain."
Hayes' attorneys also called a witness who testified that Komisarjevsky looked like the devil, describing "completely dead eyes."
While Hayes stared blankly ahead or kept his head cast down in court, Komisarjevsky, 30, smiled at his father as he came into court. His hair was slicked back and small tattoos were visible near the back of his neck.
The defense wants the trial moved from New Haven to adjacent Fairfield County, arguing Komisarjevsky was so "demonized" during Hayes' trial that he could not get a fair trial in New Haven. A hearing will be held this week on the request to move the trial.
Bussert asked that marshals near Komisarjevsky be allowed to sit rather than stand. They also tried unsuccessfully to remove Blue, arguing he made improper statements that appealed to emotions surrounding the case. Another judge found no evidence of bias and left Blue on the case.
Prosecutors defended Blue, saying his comments were fair and based on the evidence. They said there was no need to move the trial.
Komisarjevsky's attorneys tried unsuccessfully to keep William Petit out of court during pretrial arguments and jury selection because he plans to testify again at the second trial. They also argued that Petit and other relatives and supporters of the victims should not be allowed to wear pins and other paraphernalia associated with the victims or charities in their memory, saying the items posed a threat to Komisarjevsky's right to a fair trial.
Some jurors met with Petit after the verdict, Komisarjevsky's attorneys noted.
"What we witnessed was mob mentality," Bussert said. "The jurors felt a bond to this family."
Blue said the victims could continue to wear the pins, describing them as small and discrete. He said there was no need to keep Petit out of court during pretrial motions and jury selection.
Komisarjevsky's attorneys are right to try to minimize the emotions of the case, said Arthur Patterson, senior vice president at DecisionQuest, a national jury consulting firm.
"In a community where a horrible event has occurred, it is difficult for jurors to separate their own emotions and their perception of their fellow community members' emotions from the task of listening to evidence impartially," Patterson said.
Komisarjevsky's lawyers made clear they would wage an aggressive effort.
"We're not simply going to roll over and let Mr. Komisarjevsky be killed by the state," Bussert said.