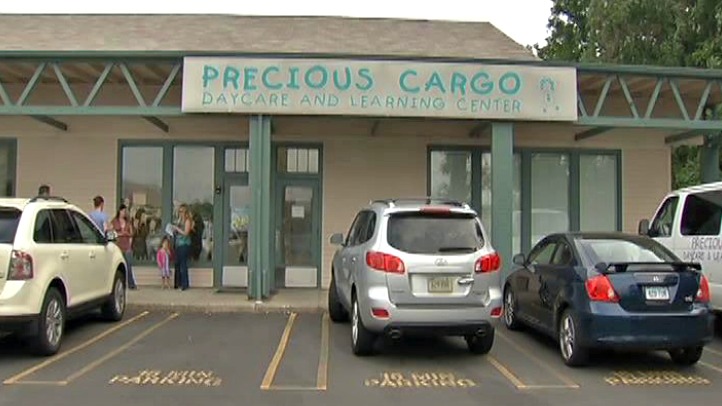 Meghan Keeney is only 3 years old and she's in the center of a Branford daycare controversy.

"They go away, because my school is closing," Meghan mumbled sadly, referring to teachers she had worked with for more than two years.

Meghan and her mother Anna Keeney are one of more than 100 families jarred by the abrupt closure of Precious Cargo Daycare in Branford on June 1. The company is now under investigation by the attorney general.

Keeney described the scene the afternoon the daycare shut down as "mayhem" and "chaos."

"Teachers crying, parents crying, children crying, not understanding what's going on," Keeney said.
Precious Cargo Daycare owner Jackie Giuliano told parents in a one-page letter the day the facility closed that after 14 years of operation, the daycare was "unable to remain open" because it could not meet "state regulations for teacher-child ratios."

However, several day care teachers say the "ratio" change in Branford was directly related to teachers leaving Precious Cargo because they were not getting paid. Checks repeatedly bounced beginning several months ago. Teachers who followed up with the bank were told Precious Cargo bank accounts had insufficient funds.

"I've had this past year three bounced checks," Mary Jane Schettino said.

Schettino taught at Precious Cargo in Branford for five years. She is one of six veteran teachers who told the NBC Connecticut Troubleshooters they are missing thousands of dollars in back pay.

Parents are also owed thousands. Anna Keeney says she is out more than $5,000 that she paid upfront for the summer months.

"Yes, I want my money and I need my money. At the same time, you hurt my child. And when you hurt a parent's child, that's not something that's going to go away very easily," Keeney said.

Adding insult to injury, former Precious Cargo parents tell us it appears that the Giuliano family's luxurious lifestyle has not missed a beat.

Just one day after closing its Branford location, a parent's friend snapped a photograph of owner Jackie Giuliano sunbathing at the Ritz-Carlton in San Juan, Puerto Rico.
"The next day, they went to Puerto Rico, the whole family. So that didn't look very good," teacher Schettino recalled. "That's my paycheck over in Puerto Rico. That's what they're having a good time on."

Parked in the driveway of her son and Precious Cargo operations director Jack Giuliano's sprawling home, NBC Connecticut found a luxury car and a boat.

The contrasting images of a well-off family and hundreds of children without daycare has upset scores of Precious Cargo parents.

"They are living very well, very large home, very nice brand new Mercedes-Benz. Worldly travels," Keeney, Meghan's mother, explained. "And you know, we have a daycare that's closed down because of financial difficulties … the parents want to know where our money went."

In her original letter to parents, owner Jackie Giuliano promised timely refunds for all unused tuition fees. Yet, those who paid by credit or debit card have been asked in a separate email from Jake Giuliano to "dispute" Precious Cargo charges with credit card companies. Giuliano said they will be issued refunds that way.

Meanwhile, Jake Giuliano told us that staff members would be paid by this week. Yet teachers (and parents) say they have received nothing. It's been more than two weeks since the Branford location locked its doors.

We tried through phone calls, email and a visit to his residence to ask Jake Giuliano where the missing refunds and paychecks are. He and his lawyer Noah Eisenhandler replied via email, both saying, "No comment."

As for the Precious Cargo brand, Jake Giuliano tells us the Branford closure will not affect the Wallingford location at all. He told us the branches are separated -- and registered as two entirely different companies.

As complaints have increased, Connecticut Attorney General George Jepsen has launched an investigation.

"We're exploring the possibility -- the real possibility -- of what we call an unfair trade practice, where [if they knew] that they were not capable of providing the businesses services that they warranted, that they took money anyway, [it] would be very serious," Jepsen said.

Jepsen said, if guilty, the Giulianos could face fines up to $5,000 per count. He confirmed there are more than 100 families affected. He recommended that parents should feel free to take independent legal action while the attorney general's office probes the case.

"Individually, they have legal remedies. If they're owed money, they can go to court," Jepsen said. "But people should understand that we are fighting to protect their interests as well and we're going to be very aggressive in doing it."

Meanwhile, parents seeking childcare have found an alternative at a new start-up center in Branford. ABC Learn with Me, a center owned and operated by Robin Harrington and Katie Durand. Just two days after Precious Cargo's Branford location closed, ABC Learn with Me expanded from four children to more than 60.

"We just opened up our doors and stayed open for as long as we possibly needed to and will continue," Harrington said.

Along with the children, ABC Learn with Me has hired more than a dozen former Precious Cargo teachers in their expansion. Parents moving their children from Precious Cargo to ABC are delighted that the transition, however rough, will be eased by familiar faces.

"I couldn't have asked for a better group of teachers," Harrington said.

Denny Gage, a 9-year veteran of Precious Cargo in Branford, is one of them.

"I never dreamt, just never dreamt anything like this would have happened," Gage said, as she greeted children at ABC.

While parents and teachers move on, the transition for kids is still heartbreaking, especially for young Meghan Keeney.

"I miss Precious Cargo," she said wistfully.