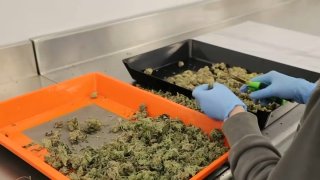 Recreational use of cannabis has been legal for adults in Connecticut since Jan. 10 and cannabis sales in the state for adult use and medical use exceeded $13 million last month.
Between Jan. 10 and Jan. 31, the combined sales of adult-use cannabis and medical marijuana were more than $13.3 million, according to the state Department of Consumer Protection.
Of that total, the amount in sales of adult-use cannabis was $5.1 million in January and medical marijuana market sales reached $8.2 million. Sales data for the medical marijuana market is not available before Jan. 10.
The Department of Consumer Protection said the total doesn't include taxes collected where adult-use marijuana was sold.
Medical marijuana patients do not pay taxes on cannabis.
The Department of Consumer Protection plans to update the data monthly.
They urge adults who choose to consume cannabis to be responsible, store cannabis products in their original packaging and lock it up and keep it out of the reach of children and pets.