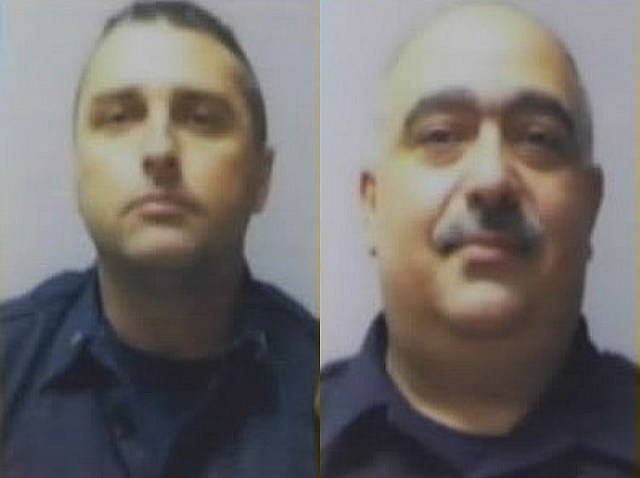 He's not the usual server at Archie Moore's, but firefighter Tony Greene took a break from his day job to wait tables at the busy Derby restaurant.
It was all part of a fundraiser to benefit the families of the two Bridgeport firefighters killed in the line of duty. Lt. Steven Velasquez and Michel Baik died last month while battling this house fire on Elmwood Avenue.
"It's still surreal. They both were great guys; they both were great firefighters. I learned a great deal from Lt. Velasquez. We're all going to miss them very much, and we're going to try to be better from this," said Greene.
So what better way than to come together for a great cause. The firefighters who helped organize the benefit graduated with Baik in 2008 and some trained under Lt. Velasquez. They were two men who were dedicated to their jobs, families and their communities.
"If they were here right now, they'd be doing as much as they could for anybody else. They were both great guys when it comes to, they were both great guys period," said Bridgeport Fire Assistant Chief Christopher Martin.
The firefighters held a raffle and sold t-shirts to help raise money for the Bridgeport Fallen Firefighters Fund. Archie Moore's is also pitching in some of the proceeds from customers who came to the restaurant to do their part.
"They put their lives on the line all the time, and I think they should be appreciated for everything they do, for the chances they take," said Pat Mieczkowski of Shelton.
"Knowing what the families are going through, and knowing what the firefighters are going through, anything we can do to help them is necessary," said Tom Lenart of Derby.
The Bridgeport Fire Department says it's received so much support from the community, it has created a committee to handle it all.
The department already has a number of fundraisers booked through October.
Some of the ones already on the calendar include: a booth at the Bridgewater Fair this weekend, a Lobster-Clambake at the Fayerweather Yacht Club in Bridgeport; an outdoor picnic at the Schwaben Club in Bridgeport on August 29; and a "Tip a Firefighter" night at the 99 Restaurant in Stratford on October 1.
The department is also selling t-shirts in honor of the fallen firefighters. They are $15 each and can be bought at the Ocean Terrace and Wood Avenue fire houses.