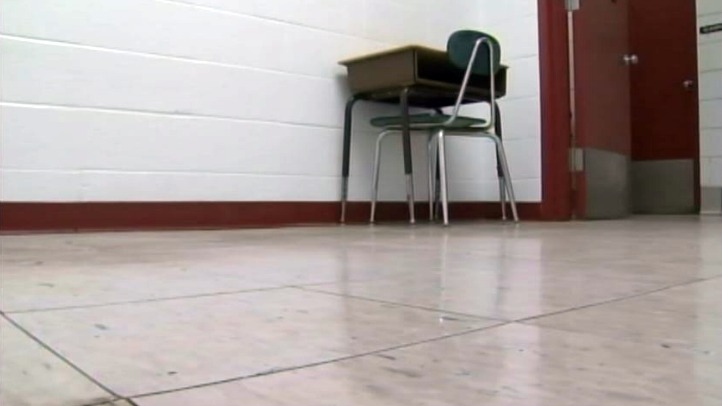 Parents in Middletown were still fuming on Thursday night over the so-called "scream rooms" in their children's schools.
Dozens of people showed up for a meeting at city hall and gave the district another earful as school leaders tried to alleviate the community's concerns.
"We need to know what's going on. We need to know what's happening and we need to know now," Donna Smith, a parent, told the superintendent during the school board meeting on Thursday.
She and others wanted specifics on the scream rooms at Farm Hill Elementary, but the superintendent refused to give specifics.
"How are we going to get through this if our leader is not going to communicate? It's very upsetting," one parent said.
Parents told NBC Connecticut that unruly students, including those with special needs, were thrown into rooms with concrete walls and left there alone kicking and screaming uncontrollably.
Some parents claimed the school never asked their permission.
"I was told about kids urinating on the floors. I was as told about blood being on the walls and kids banging their head," Jeff Daniels, of Middletown, said.
After weeks of controversy, the superintendent told the crowd at city hall that the school stopped using scream rooms last week.
He said students who act out will be taken out of class and dealt with, but would not elaborate when both they and NBC Connecticut questioned him.
"The students are being dealt with on an individual bases with trained staff," Supt. Michael Frechette said.
One Middletown woman was so mad, she started an online petition that requests that three administrators be fired.
Roughly 100 people already signed it.
"The time-out room that was designed had a circuit breaker that was opened and my son was messing with circuit breakers," Jane Majewski said.
State Rep. Diana Urban, also spoke out about the scream rooms, called the practice barbaric.
"That's putting it mildly. When you send your child to school, you're assuming your child is in a safe learning environment," Urban said.
She wants to propose a ban to keep other districts from using scream rooms.
The State Department of Education is investigating the scream rooms in Middletown.