People across Connecticut came out to celebrate Juneteenth on Saturday.
The day marks when some of the last enslaved people learned they were free, back in 1865.
In Manchester, there was a celebration as murals commemorating the nation's newest federal holiday were unveiled.
The murals are a part of CT Mural's "MLK 39: Racial Equity Mural Tour."
Civil rights leaders Harriet Tubman and John Lewis are featured on the Mahoney Recreation Wall, as well as life-long Manchester resident Dr. Diane Clark-Kearney, who has fought for equality through education.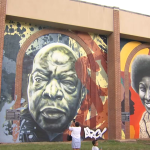 "I think it's the beginning, it's been a long time coming and so this is the direction we should be heading. We are Americans as well so we need to be a part of the conversation and we need to be validated and this is one way to ensure that validation," said Clark-Kearney.
There were also food trucks, vendors and music as a part of the city's celebration.
In Hartford, rain did not put a damper on the city's Juneteenth celebration. The festivities were held at the "Black Lives Matter" mural on Trinity Street.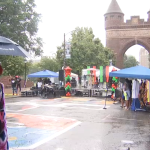 The free event featured food, music, vendors and a keynote address with a reminder of the work left to be done.
"I do hope that it becomes more than just an empty symbol but rather a symbol that is lasting for generations to come," said Joelle Murchison, of ExecMommyGroup. "Increased access to the information only means that more people will be exposed and we can only hope that means change."