Police are searching for two men who are accused of shooting at each other outside of a bar in East Haven early Sunday morning.
Officers were called to the Rumba Cafe Bar and Lounge on Main Street around 1:10 a.m. after getting a report of gunshots in the area.
When police arrived, they said they found several vehicles in the parking lot were struck by gunfire.
A McDonalds, which authorities said is next to the parking lot where the shots were fired from, was also hit by gunfire.
No victims were struck, according to police.
Police said surveillance video shows two men firing at each other across the parking lot.
In the video, there is a confrontation between men in a parking lot outside of the bar. A man in a dark-colored shirt points a gun at another man in a lighter-colored shirt. He then leaves the view of the camera and a short time later, the gunfire starts.
According to police, the video then shows the man in the light-colored shirt exit a car and shoot into the distance.
No injuries were reported, but several vehicles were damaged.
Detectives are asking for help identifying two male suspects and a woman who was with one of them.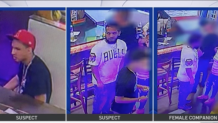 Anyone with information is asked to contact Detective Joe Carangelo at (203) 468-3827 or at jcarangelo@easthavenpolice.com. Police stress that all information that is obtained will remain anonymous.