NBC Connecticut First Alert meteorologists are tracking another round of rain to start the week.
The first half of the day Monday will be mainly dry, but showers will increase toward and after noon.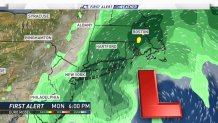 An area of low pressure passing to our southeast will overspread rain starting in eastern CT around noon to western CT by afternoon and evening. There could be some embedded downpours along with thunder and lightning.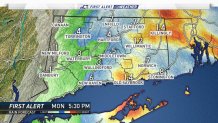 The heaviest rain is expected to be in eastern Connecticut with up to 1" of rain falling. Much less rain is expected in the northwest hills.
The rain is expected to come to an end overnight Monday with a return to sunshine and warm temperatures on Tuesday.
You can track the rain using our interactive radar.