Police are investigating the theft of two safes from a dental office in Prospect and said the items in that safe included cash, prescription pads, pistols and paperwork showing ownership of a slave in the 1800s.
Police said the safes were stolen from an office at Priceless Dental Care P.C. at 60 Waterbury Road in Prospect around 1:30 a.m. on the Fourth of July.
Dr. Efrain Socarras noticed the theft the next morning and said one safe weighed 130 pounds.
"I noticed that something was missing, like it was an empty spot," he said. "When I went to the other side of the office I saw glass broken on the floor and cabinets open, and a mess."
Items reported to be in the safes included several personal and professional items, paperwork, $1,500 in cash, prescription pads, registration paperwork for seven firearms, historical paperwork showing ownership of a slave from the 1800s time period, two Colt Lady Derringer .22 caliber handguns, one bottle of Halcion and one bottle of morphine medication, police said.
The dentist said several of the missing items, including the slavery papers, were collector's items he bought in Cuba, where he was born.
The slavery papers have no personal significance, but he considers them priceless and intended to give them to his daughter, who is studying civil rights in law school.
Video surveillance from the dentist office showed a man wearing a white hoodie sweatshirt and baseball cap enter the dentist office through the back door at the time of the burglary. A short time later, he was seen leaving the building. Then a small, four-door vehicle with a sunroof and spoiler on the trunk was seen driving away from the office, according to police.
Dr. Socarras said he isn't taking any chances and bolted his new safe to the floor and doubled up on security at his office.
"It's a very weird feeling because I've been here in this town six years, I've recently purchased a house in Prospect thinking this is one of the most safety towns in the nation, very quiet, high morals, quiet, good town, and this is weird, it's a very weird feeling," Socarras said.

State Police said the same man who broke into the dentist's office was caught on camera stealing from businesses in Glastonbury and Middletown, but investigators in those towns have not commented on the cases.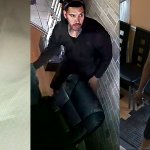 Anyone who has information about the burglary or stolen items or who might know who is in the surveillance photos is asked to call the Prospect Resident State Trooper's Office at 203-758-6150, Troop I-Bethany at 203-393-4200 or email Trooper Vandeventer at timothy.vandeventer@ct.gov.
You can also text TIP711 with any information to 274637. Reference case #1800-322530. Calls can remain confidential.