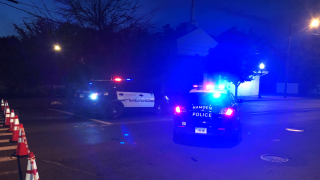 A motorcyclist is seriously injured after a crash in Hamden on Friday night.
Officers were called to Dixwell Avenue near Cherry Ann Street around 5:15 p.m. after getting a report of a crash involving a motorcycle and a vehicle.
According to police, the driver of the motorcycle suffered serious injuries in the crash. The 36-year-old man was treated on scene by Hamden Fire Rescue and he was transported to Yale New Haven Hospital.
The Hamden Police Department's Accident Reconstruction Team responded to the accident scene and are leading the investigation.
Dixwell Avenue was closed for several hours while an investigation was conducted. It has since reopened.
Anyone with information or anyone who witnessed the crash is asked to contact Officer Christian Kaplan at (203) 230-4000 or by email at ckaplan@hamdenpd.com.