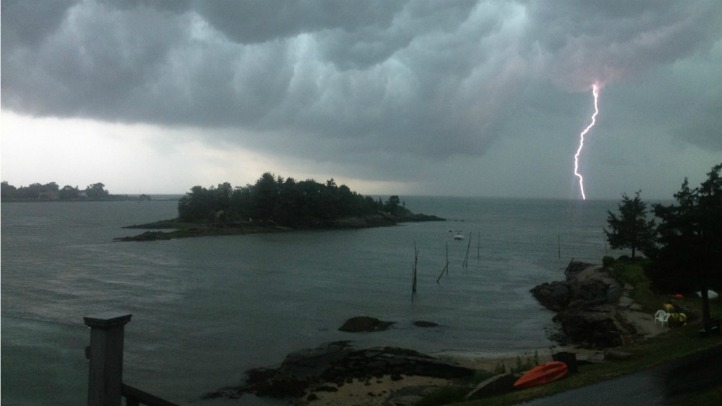 A second round of storms rolled through Connecticut Monday afternoon, causing some damage in western parts of the state.
Lightning struck a house at 16 Early View Lane in New Milford around 3:30 p.m. The lightning struck the chimney, according to fire officials.
Fire crews in Barkhamsted responded to a report of a house struck by lightning at 7 Ratlum Mountain Road Monday afternoon.
Avon's fire chief said a fire at 535 Lovely Street was possibly caused by lightning. A family inside the home got out unharmed. A firefighter was transported to the hospital after receiving a minor injury, the chief said.
Monday morning, a line of strong storms produced hail and downed trees statewide.
Several people have been struck by lightning at the Lake of Isles golf course in North Stonington, according to state police.
There were reports of small hail and some and damage in areas from Litchfield County to New London County.
The canopy at a Henny Penny gas station in Salem collapsed, according to police. The gas station is located at the Four Corners intersection of Routes 82 and 85 in Salem.
New Milford emergency crews were investigating the possibility a home was struck by lightning on Bluestone Lane. Trees have come down in Torrington, Kent and Cornwall, according to Litchfield County dispatchers.
Firefighters in Coventry, Killingworth, Madison and Berlin responded to house fires sparked by lightning strikes.
Dublin Hill Road in Greenwich, as well as Taconic Road are closed in due to downed trees.
Nearly 14,000 Connecticut Light & Power and United Illuminating customers were without power at the height of the storms.
Metro North trains were running 20 to 30 minute delay after a track was struck by lightning on the New Haven line, accoring to MTA officials. The problem was fixed and trains were running normally by noon.