Connecticut State Police said they've made several arrests during an active narcotics investigation in Portland.
State police said they executed a search warrant following a months-long investigation. Multiple kinds of controlled substances, including marijuana and mushrooms, were found in a commercial-type property that allegedly held underground parties, officials said.
Several police agencies have secured the area, located at 115 Airline Ave., and officials said there is no threat to the public at this time.
Multiple community members expressed concern about the operation, which posed as a motorcycle clubhouse and hangout, and complaints dated back several months, troopers said.
First Selectman Ryan Curley said his office received numerous complaints regarding the facility. These complaints were regarding noise, large gatherings, smoking, drinking and lots of traffic.
Troopers said there are two athletic fields located within 100 yards of the facility. Little league games were held at these fields, and police said they were relocated to another location in town because of the illegal activity happening in the area.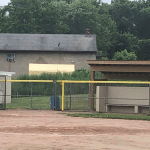 People going to the underground facility would often park at the athletic fields and walk through games with children around to get there, according to police.
"The concern was really the general safety of anybody in attendance. The concern of the kids on the fields and the parents in the stands," said Nate Foley, Portland Park and Recreation director.
People who work and live nearby say it wasn't uncommon, for party-like activities to happen there - usually on Wednesday nights.
"You would see tons of cars. They have people out here helping with parking and stuff like that," said Umberto Spada of Portland.
"Every once in a while we'll hear loud music that's it, until like three, four in the morning," said Sandra Leclaire of Portland.
Spada runs a business only yards from where the raid occurred. He's seen the parties but was surprised by the news.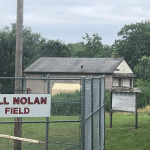 "The shrooms and stuff. I was like, no way. Because I couldn't believe it was more of an underground event than a party," Spada said.
Some little league players' parents first complained to town officials. They suspected drug dealing after witnessing marijuana use close by.
"There was smoke that was blowing in the direction of the kids playing and parents were concerned," Curley said.
The investigation took about three to four months. Specific information about how many controlled substances and arrests was not immediately available.
Two firearms were also seized. Police said they don't know if they were obtained lawfully or illegally.
State police said they are expecting a large number of arrests to be made. They said the operation was successful and the area was secured without incident.
Officials said their investigation is relatively large scale and there are a lot of moving parts. More information is expected in the coming days.