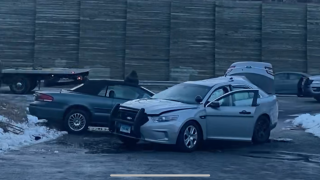 A Connecticut State Police trooper was struck on Route 9 in New Britain Wednesday evening and suffered head, neck and back injuries, according to state police.
State police said they responded to the southbound side of the highway in the area of exit 30 just after 4 p.m. after a driver swerved, drove on the snow-covered shoulder and into the center median embankment and hit a state police cruiser that was parked in the turnaround.
The state trooper was taken to New Britain Hospital.
The other driver did not report any injuries and was cited for failure to maintain established lane.