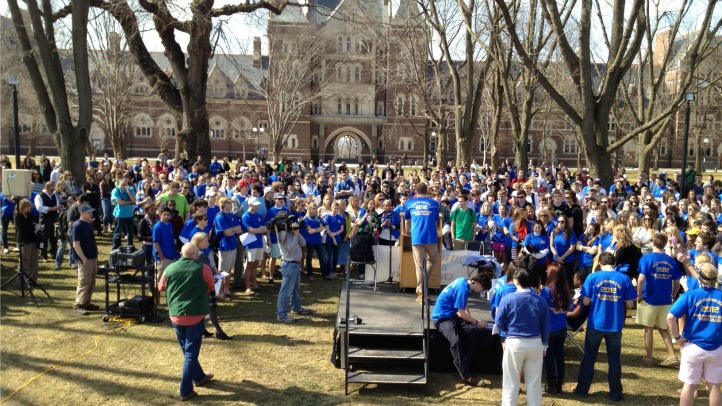 Hundreds of students rallied on the campus of Trinity College in Hartford Thursday in the wake of a brutal attack on a fellow student.
"We don't have a specific solution we're advertising here. We're just advertising the need for change", said Trinity senior Joe LaSala.
Sophomore Christopher Kenny was walking along Allen Place with a friend early Sunday morning when five people jumped out of a car and beat him. Kenny was hospitalized with a broken jaw and cheekbone.
At the rally, angry students, many wearing t-shirts and bracelets in support of their friend, said crime on or near campus is not uncommon.
Among the speakers, Maria Young, who says she got mugged in February. "It was maybe a hundred feet from where he (Chris) got attacked", she said.
Students at the rally said the problem has gotten worse in recent years.
"The severity of the assaults has heightened, and I've noticed the frequency of the assaults has heightened," LaSala said.
Students are not only angry about the attack, they are angry at the schools response to the attack.
"It is sad that Chris' mother was not contacted until the next day, when he himself could finally gain the strength to call home and let her know what had happened," said Stephen Smith, a junior at Trinity.
"That is very, very unfortunately true," said James Jones, Jr., Trinity President. Jones called it a "breakdown in communication".
Trinity plans to hire 10 new security officers to patrol the campus, possibly as early as next week, according to Jones.
Hartford police continue to search for the three women and two men who are suspected of attacking Kenny. The Kenny family is offering a $10,000 reward for information leading to the arrest and conviction of whoever is responsible.