About 4,000 people took part in the American Cancer Society's 24th Making Strides Against Breast Cancer Walk in Hartford on Sunday morning. NBC Connecticut and Telemundo Connecticut were proud to connect the community with the inspiring event as official sponsors.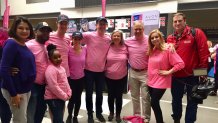 While the walk was moved last minute from Bushnell Park to the XL Center, it didn't stop survivors and their families from uniting with others in the same fight.
"It's inspiring for them to see the numbers of people that either have been touched by the disease and are engaged in the same type of fight or that are just out supporting," Executive Director of the American Cancer Society, Wendy Matthews, said.
The 5K walk raises funds for breast cancer research and early detection, something 39-year-old Cynthia Lopez is passionate about after she found a lump during a self-breast exam last year.
"If you feel a little lump, a big lump, any type of lump, go and get checked because you just never ever know," Lopez said.
Shirrie Henry cared for her mother as she battled the disease for years. She said losing her two years ago was devastating. Now, she volunteers in her memory.
"I just want to get out here and support those who are survivors, their family members, the caregivers," Henry said. "So, just to walk with everybody and show support."
Both women said they are finding comfort in new and unexpected ways.
"It's like we're all in it together like a big old family," Lopez said.
"It just touches my heart to be here," Henry said. "I'm honored."