Hurricane Jose strengthened a bit today as it passes over the Gulf Stream. The storm, tracking about 75 miles east of where we thought it may this weekend, will result in only very limited impacts here in Connecticut. A bit of wind and rain will be about the extent of the impacts here.
The showers should diminish later tonight and I'm expecting a mainly dry day tomorrow as the outer bands of Jose fizzle. The inner core of Jose should remain quite in fact as it wobbles southeast of Nantucket. Wind gusts of over 60 mph are still possible there. We've very lucky Jose jogged east some as the Cape and Islands would have had a really nasty storm.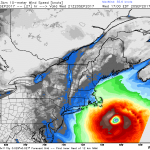 While the rain ends for tomorrow the wind will actually pick up some with 30-40 mph gusts possible in some towns. Nothing too bad.
Beyond Jose we've got a few items of note in the extended forecast. The first will be a giant ridge of high pressure that will build in from the west and allow unusually warm temperatures to develop. In the map below you can see very large temperature anomalies (>10C) as the jet stream retreats north. It's not out of the question that temperatures could approach the 90 degree mark Sunday or Monday with how warm this air mass will be.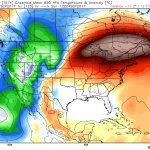 If we were to get to 90 it would only happen with Jose remaining far enough offshore to keep clouds away and if the wind direction cooperated (westerly winds a must).
One wild card for next week is what will happen with Jose off of Nantucket and how Jose will interact with Hurricane Maria. For one, the giant ridge of high pressure that builds in and warms us up, will effectively block Jose from harding east into the North Atlantic. Until we figure out what Jose will do as it meanders off New England it's hard to know where Maria will track. This spaghetti plot from the European model is a pretty accurate depiction of possibilities - ranging from an east coast US threat to safely out to sea.
Maria will have to be watched and after what it's about to do to St. Croix and Puerto Rico they will certainly need a lot of our help.