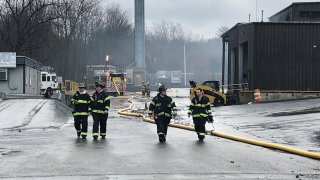 Crews were still on scene Sunday after a fire broke out just before 10 p.m. Saturday night in Middletown.
The Westfield Fire Department was called to Dainty Rubbish on 80 Industrial Park Road for a fully involved fire.
According to officials, heavy rains and wind gusts made it harder to battle the blaze.
Chief William Balch works with Westfield Fire Department and helped battle the fire.
"Heavy rains and wind gust were blowing out from the South and pushing through the facility creating a chimney effect," said Chief Balch. "The fire was a deep pile of rubbish and the roof was compromised which made it difficult to put the fire using our towers to help put out the fire."
The fire is now contained and there are no reports of any injuries.
An investigation is underway to determine the cause of the fire.
Danity Rubbish is a family owned and operated trash business that serves Middletown, Cromwell and Portland.