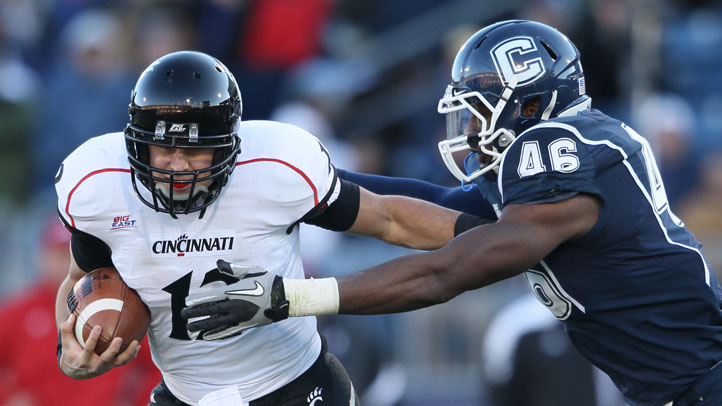 Linebacker Sio Moore wasn't originally invited to the Senior Bowl (for reasons that remain a mystery to us), but he was a late addition to the roster after UConn teammate defensive end Trevardo Williams had to pull out. With the all-star bowl games behind us, these players are preparing for the next step in the long, arduous road to an NFL job: the combine, which takes place later this month.

And this time, Moore's on the original invite list, where he'll get a chance to show the 32 NFL teams what the Big East already knows: he's a special player. Moore will be joined in Indianapolis by Williams, who will be making the transition from college rush end to NFL outside linebacker; and cornerbacks Dwayne Gratz and Blidi Wreh-Wilson, both of whom participated in the Senior Bowl.

College accolades via the AP:
Williams led the Huskies with 11½ sacks and was credited with 13½ tackles for loss during the 2012 season. He is projected as a linebacker at the next level. He and Moore, who led UConn with 15½ tackles for loss and had eight sacks, were both named to the Big East all-conference first team.

Gratz and Wreh-Wilson made the second team. Each had eight interceptions during their UConn career, including Gratz's 46-yarder for a touchdown in the 2011 Fiesta Bowl.
NFL Network draft guru Mike Mayock had this to say about Moore during his four-tackle Senior Bowl performance.

"I like the combination of heavy production at a BCS school, a great week of practice and following it up with a solid game," Mayock said back in January. "I think as this process goes on you are going to see this guy start to rise, and I wouldn't be surprised at all if at the end of April he doesn't end up in the third round."