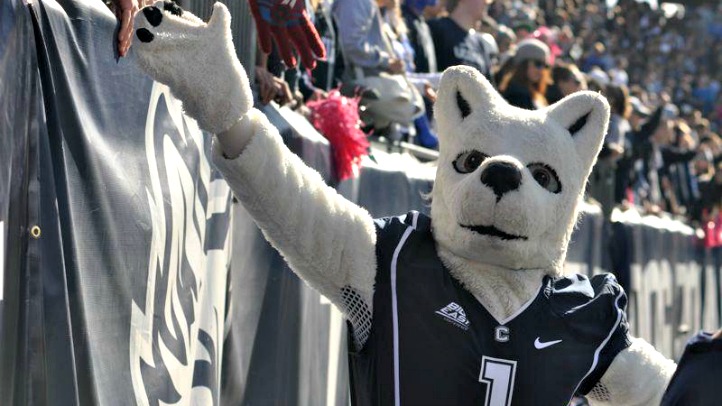 The Big East may be in better shape today than it was a year ago at this time but there's still much to do. We know this because teams continue to leave for perceived greener pastures. The latest departure: Rutgers is headed to the Big Ten, along with current ACC member Maryland.
In what looks like another blow to the Big East and UConn's place in it could ultimately be the Huskies' ticket out of a conference that looks nothing like it did just 12 months ago.
A source with knowledge of the situation tells CBSSports.com's Jeremy Fowler that the ACC is looking for a 14th school to replace Maryland and UConn and Louisville are the frontrunners.

More via Fowler:
The ACC is also in talks with South Florida and Cincinnati, according to the source, and could add "pretty quickly." Factors on the decision include geography and television market viability, on-field performance and academic success.

All eyes are on the ACC as it protects its own after the Big Ten poached Maryland, a founding member. The league was blindsided by the move but wasn't totally shocked given Maryland's struggling financial department and the school's administrative turnover without an allegiance to the conference's tradition.

This isn't great timing for the Big East, which is immersed in television negotiations with ESPN, NBC Sports Network and others.
The Rutgers announcement came Monday, several days after Big East commissioner Mike Aresco touted the new conference realignment, the BCS Bowl affiliation, and the impending television contract that would keep the Big East in the national conversation for the foreseeable future.

So now, after Pitt and Syracuse will move to the ACC in 2013 and West Virginia began Big 12 play in 2012, Rutgers will become the fourth team to leave the Big East. They'll join Maryland in the Big Ten, giving the conference 14 schools.

So why the move? Details via ESPN.com's Brett McMurphy and Dana O'Neil.
A source told ESPN that the Big Ten has been itchy about further expansion since Notre Dame made its official move to the ACC two months ago in all sports other than football. The source said the Big Ten can justify Maryland and then potentially Rutgers because they are in contiguous states to the Big Ten footprint.

The addition of the two East Coast schools would dramatically stretch the Big Ten's shadow. With Maryland holding down the Beltway, Rutgers, in New Brunswick, N.J., offering up the New York market and Penn State's strong eastern ties, the league has a solid anchor in the mid-Atlantic states.
On Monday, before Fowler's report that the Huskies could be in the mix to replace Maryland in the ACC, UConn coach Geno Auriemma, as always, offered a frank assessment of the situation:

"I don't think that any one, anymore can talk about their desires [to be in a conference]," Auriemma said via the Hartford Courant. "You can have desire for a lot of things. You can desire to be invited to all the best parties in Connecticut, but if you don't receive an invitation, you are not going.

"If you sit around waiting for an invitation, then you are doing a disservice to your school, your league and your opponents. I just think that everyone knows that every school in the country, every league in the country [has the same issue]. You go to league meetings and you look at each other in the eye and hope everyone is telling each other the truth.

"Then you go on with the understanding that it can all change tomorrow. Where we are right now is where we [UConn] will play. I have no idea what is going on. I really don't. I thought this had all died down. This has taken me by surprise, and I am one who tries to keep track of these things."