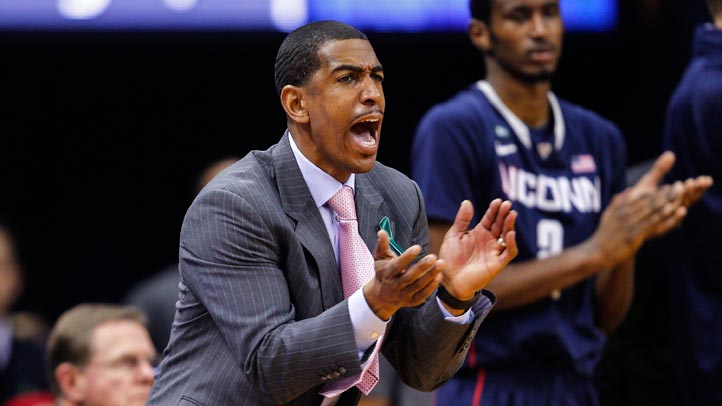 In a game that was supposed to be about two superstars -- Georgetown's Otto Porter and UConn's Shabazz Napier -- didn't start out that way. Both players got off to glacial starts, combining for a grand total of one point by halftime. But over the course of the next 30 minutes one would help UConn mount a furious comeback to get to overtime, while the other would wield the proverbial hammer to slam the final nail in the Huskies' coffin.

In the waning seconds of the second overtime, Porter sliced his way into the lane, went up hard and scored the decisive basket that ultimately means much more to the seventh-ranked Hoyas than it will for a Huskies team whose season ends in nine days.

There were bright spots, however. Freshman Omar Calhoun hit a HUGE three with 2.2 seconds left in regulation to get the Huskies, who trailed by double-digits three minutes earlier, to extra time. And sophomore DeAndre Daniels added 25 points, including a 3-for-4 effort from beyond the arc. Then there was freshman Phil Nolan, who continues to look more comfortable running the floor and controlling the paint.

Yes, some of these are moral victories but the reality is that that's a huge part of this season for a team without the conference or NCAA tourneys in their future. But this is also an investment in UConn's future. "That which doesn't kill you…" and all that will only make this group better when the NCAA isn't looking over their shoulders next year.

"I'm very proud of my guys," coach Kevin Ollie said afterwards. "They fought. …Down 12, they just kept battling, kept fighting, showed character, showed perseverance and showed heart. And that's what our team is all about. Our team is all about heart. You can say we're small, we don't rebound. You can write whatever you want to. But I hope you all write that we've got heart. ...I will go to battle with them any day. All of them.

"The crowd was terrific once again," he continued. "They kept giving us energy when we felt like we were dead in the water. Energy, energy, they kept giving it to us. Love them. Wish we could have pulled it out."

Napier, who tweaked his ankle in the second half, agreed.

"We showed a lot of heart today," he said. "Going down by 12 and still having the toughness to come back and go into double overtime, shows how much heart this team has. A lot of people say were not playing for anything but we're playing for the passion of the game.

"All losses are tough. Sometimes when you feel like you had the edge and you give it away, those are the ones that really hurt."

Unfortunately, there will be no repeat of the 2011 season, when the Huskies got hot at the right time and reeled off 11 tournament wins in a row to claim the school's third national title. This time around, there's Cincy, USF and Providence, and when the final whistle blows on March 9, it will officially mark the end to the 2012-13 season for UConn.