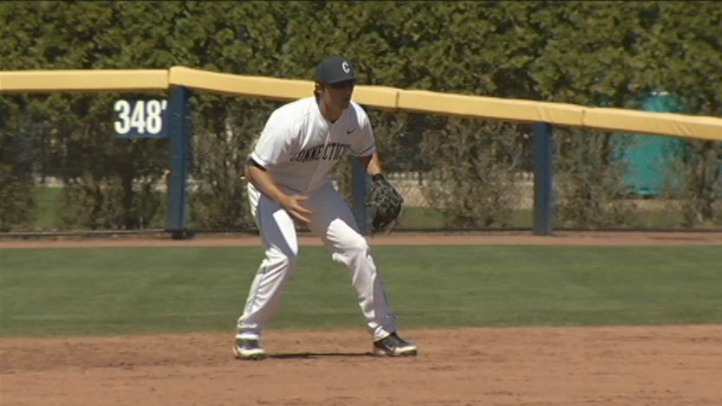 When the Huskies take the field Friday at 5:30 p.m. in Blacksburg, Va. to face Virginia Tech in the NCAA Regionals, it will be a familiar scene for some and a completely new experience for others.

UConn has been to the NCAAs in three of the last four years except this time, they've done it as a No. 8 seed in the Big East, the first time in conference history that's happened. But as the old saying goes, everybody's 0-0 at the beginning of the postseason, which means new life for a UConn team that finished 32-26 (9-15 in the Big East).

"We're excited to be going anywhere," sophomore pitcher Carson Cross said via the Hartford Courant. "When the stage is set high, we like to rise to the stage. It seems like we've done that the past few years I've been here. I think we're going to do it again this weekend."

Senior LJ Mazzilli, who led the team in every major offensive category, offered up his blueprint for success at this stage of the proceedings.

"It takes this," he said, pointing at his chest. "Heart, desire, belief, confidence and all that stuff. But it has to come from within. You can say all these things, but if you don't believe it inside, you're not going to pull the best out of you."

The Huskies find themselves in the same bracket as Virginia Tech, Oklahoma and Coastal Carolina. Not surprisingly, UConn's the No. 4 seed in the group. But there are advantages to being overlooked by, well, everybody.

"We don't have any pressure on us now," fifth-year Billy Ferriter told the Courant. "The past times we been there, we were expected to be there. Now we're not expected. We kind of snuck in the back door. … We have a shot to make something happen just being there."

As for their opponent, Virginia Tech plays in the powerhouse ACC (five teams qualified for the NCAAs) and have won 8 of their last 10 games.

"They're good, they're very good," UConn coach Jim Penders said. "They play very well at home. [Coach] Pete Hughes always has a lot of sluggers. If we play like we did Sunday afternoon [against Notre Dame], I like our chances against any team in the country. But having said that, we're going to get a heck of a test."

But the Huskies found one thing they lacked for parts of the regular season.

"Confidence is king," Penders said via the Courant, "and right now, we have it."