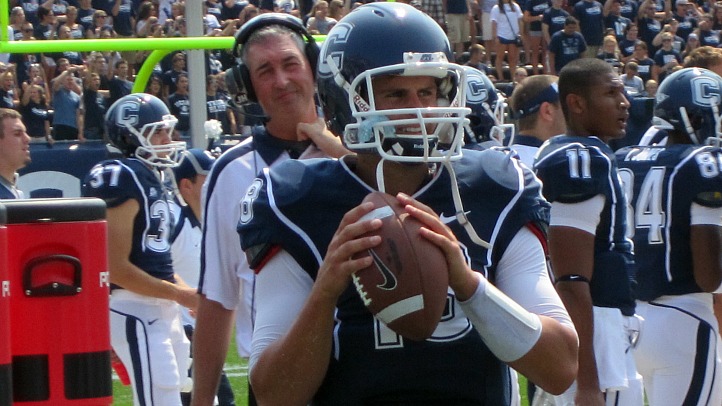 Saturday's Pasqualoni Bowl against Syracuse in Rentschler Field was one of the sloppiest games you'll see UConn play, which is saying something given how inconsistent this team has been in 2011. But a win's a win, and a win against the school that fired you seven years ago is even better.

The Huskies, now 4-5 (2-2 in the Big East) beat the Orange 28-21 in a matchup that had nearly as many turnovers as points. That's a slight exaggeration, but had UConn taken care of the football the final score could have been a blowout. Instead, they committed five first-half turnovers, three courtesy of Johnny McEntee (two picks, another fumble). It got so bad, so early, that McEntee was booed loudly, yet despite the miscues, UConn headed to the break tied 7-7.

But it was a fourth-quarter Syracuse turnover that decided things. As has been the case countless times this season, UConn's defense kept them in games before eventually winning it for them. Linebacker Sio Moore's interception led to a Scott McCummings touchdown run, his second of the game.

McCummings' two scores are notable because the Huskies went to the run again and again in the second half, often featuring some combination of McCummings, the redshirt freshman QB, and running back Lyle McCombs. McCummings' success has again reignited the conversation that McEntee, who finished 8 of 14 for 113 yards, should be benched.

"I thought Scott did a great job today," McEntee said, according to the Hartford Courant. "Whatever we need to do to win I'm fine with it."

McCombs, who finished the afternoon with 152 yards on 24 carries and a score, said halftime adjustments were the key.

"We saw some things, yeah, but I personally feel that they couldn't stop our running game and once we got away from the running game that's when the offense went three and out or whatever so basically at halftime we regrouped, said we need to keep running that rock and we did," he said.

And run the Huskies did. In fact, they kept it on the ground for 22 of 27 second-half snaps. The result: UConn outscored Syracuse, 21-14, marking their fifth consecutive win over the Orange.

As for the starting quarterback situation, well, Pasqualoni sounds a lot like he did in the preseason. Which is to say, he'll let us know on game day.

"It's a one-game thing and every week you have to start over," Pasqualoni said, via the Courant's Jeff Jacobs. "Some weeks you run more. Some weeks you pass more. There's no way to predict each week how it will turn out."

And that's probably the best approach. The Huskies have four wins, have a shot at becoming bowl eligible, and have certainly improved over the course of the season. The reality is that UConn doesn't have a proper starting quarterback. Ideally, Pasqualoni wouldn't have to trot McEntee and McCummings out there based on situation and momentum. But it could also be a lot worse. For now, the biggest storyline is that Pasqualoni beat Syracuse, even if he says it's no big deal.

"He downplayed the whole thing," said Moore. "But you always know playing the team you used to coach. They want to get those wins and we just wanted to make sure we came out here and did that for him."