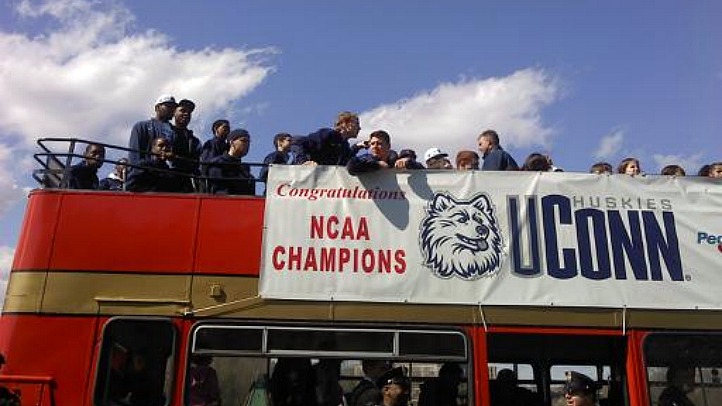 It's not a bad time to be a Husky fan. The UConn athletic program is boasting a national champion men's basketball team, a Final Four women's team and a football team fresh off its first-ever BCS bowl berth.
Today, the fiesta continues for the Huskies at the state Capitol. For a moment, The General Assembly will put aside their partisan debate over budget issues to celebrate its annual Husky Day.
The teams will get a chance to visit the House of Representatives, the Senate and Gov. Dannel Malloy's office before an afternoon reception in the Hall of Flags. The event is an opportunity for lawmakers to thank the coaches student-athletes for their dedication to the state.
"These student-athletes have served as wonderful ambassadors for the State of Connecticut," said Senate President Williams. "They achieved amazing success and they did it with class and poise."
"I have heard sports described as the greatest social common denominator in the world," adds Senate Minority Leader John McKinney. "Nowhere was that more true than in Connecticut this year. From the BCS Bowl game in January, through the women's record 90-game winning streak, and culminating with a fourth national championship in men's basketball, UConn athletic programs have given Connecticut residents of all ages, genders and political persuasions something to cheer about all year long."
Among the guests heading to Hartford are coaches Jim Calhoun, Geno Auriemma and Paul Pasqualoni, as well as basketball players like Maya Moore, Kemba Walker and football players Kashif Moore and Johnny McEntee (of YouTube fame).

Copyright AP - Associated Press