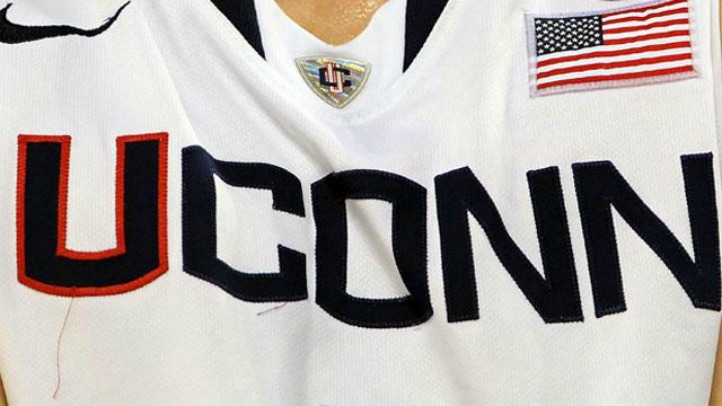 Big men Alex Oriakhi, Andre Drummond and Michael Beasley left UConn this spring, which meant that the program had a gaping hole in the frontcourt, one that won't be easily replaced. Phil Nolan, a 6-10 center from Florida, signed with the Huskies earlier this summer but coach Jim Calhoun admits that his 2012-13 squad isn't the most talented bunch he's ever had (but adds that "we have a chance to be a better team…")

So it stands to reason that the ultimate goal is to get the program back to where it's been during most of Calhoun's quarter-century in Storrs. Which brings us to Stephen Zimmerman, a 14-year-old freshman who happens to stand six feet, 10 inches tall, is currently the No. 9 player in the class of 2015 and has been on the Huskies' radar for some time now. (We're not kidding; in February, Zimmerman said, "Before I started 9th grade I was fortunate enough to have 4 scholarship offers from UNLV, UCLA, Kansas and UConn."

The Connecticut News' Kevin Duffy wrote about Zimmerman earlier this week and says that one of the nation's best high school players hasn't yet narrowed his list of suitors down to just a few, or even set a time to make a decision. Of course, he's 14, a time when most kids are focusing on back-to-school shopping and avoiding seniors in the hallway once high school gets underway in a few weeks.

"UConn has a great history and everything, it seems like a really good team," Zimmerman said via Duffy. "They seem well-rounded."

According to his high school coach, Zimmerman is mature beyond his years. "You wouldn't know that he just finished the eighth grade," Gorman coach Grant Rice told the Las Vegas Sun. "I think what separates Stephen right now is just his agility. For his height and his age, you're rarely going to find someone who moves as well as he does or is as athletic as he is. The potential is unlimited with him."

Those last six words sound a lot like Drummond, who's now making a living with the Detroit Pistons. That said, it could be years before Zimmerman announces his intentions and by 2015, Calhoun might finally have retired. And who knows, the Huskies could've already added a fourth national title.