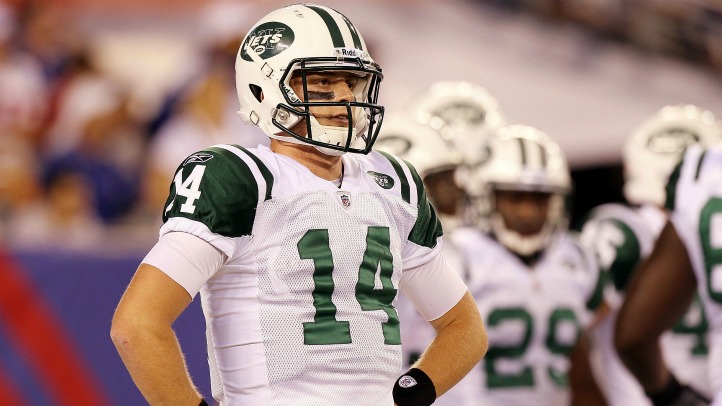 The finger-pointing in the Jets locker room shows no signs of dying down.
Every member of the locker room seems to be relishing a chance to whack the carcass of a season gone terribly wrong with fourth-string quarterback Greg McElroy, who spent the year on injured reserve, creating the latest round of headlines.

McElroy gave an interview to an Alabama radio station and pulled no punches in his assessment of a team that he was barely part of as a rookie.
"It's the first time I've ever been around extremely selfish individuals," McElroy said. "I think that's maybe the nature of the NFL. But there were people within our locker room that didn't care whether we won or lost as long as they got theirs, had a really had a good game individually. And that's the disappointing thing. It's going to take a lot to kind of come together next year. I think the fact that we struggled at times this year really led to a really corrupt mindset within the locker room. But I think we're going to regroup and I know that we'll be a better team because of the trials and tribulations this year."
It seems odd that McElroy was so shocked by being around extremely selfish individuals after playing for Nick Saban at Alabama, but there you have it. Unless one of the waterboys wants to weigh in, it seems we now have a definitive view of how bad things were inside the Jets locker room this year.
And yet, it still doesn't get close to addressing the total picture of why the Jets season went so wrong. It becomes a chicken and egg conversation at some point as to what causes what, but the one thing that sports history has told us is that there has never been a winning team accused of having bad chemistry or a toxic locker room.
The opposite is equally true. The Knicks of 1970 and 1973 are always talked about in hushed tones for the way they became champions by coming together to form a whole greater than the sum of their parts, which is true but also totally ignores that most of the key players on those teams are members of the Hall of Fame because they were really good at basketball.
Every team in the NFL, from the Packers to the Colts, has players who put the individual before the team. The difference in their records comes down to talent and the reason why the Jets are now being treated like a pinata is because they simply weren't good enough.
All eight Jets losses happened because they were outplayed on the field. There's no doubt that the mindset of the team has an impact on what happens on the field, but Santonio Holmes acting out doesn't explain why Wayne Hunter got beaten consistently and it doesn't explain why Eric Smith was consistently making plays that make you wonder why he was on the field in the first place.
And, of course, it does nothing to explain why Mark Sanchez hasn't progressed as a quarterback. Everything that goes into a football team matters and the Jets obviously need to make some changes when it comes to their overall approach.
That means Rex Ryan has to approach the job differently, as so many people have opined this week, and it also means the makeup of the roster has to change. Those changes have to be about upgrading the overall talent as much as they have to be about bringing in players who will all be pulling in the wrong direction, though.
The longer they act otherwise, the worse things are going to become because, once you get past all of the salacious headlines, the fact is that this team just wasn't good enough to fulfill the promises they made with their mouths.
Josh Alper is a writer living in New York City. You can follow him on Twitter and he is also a contributor to Pro Football Talk.
Copyright FREEL - NBC Local Media