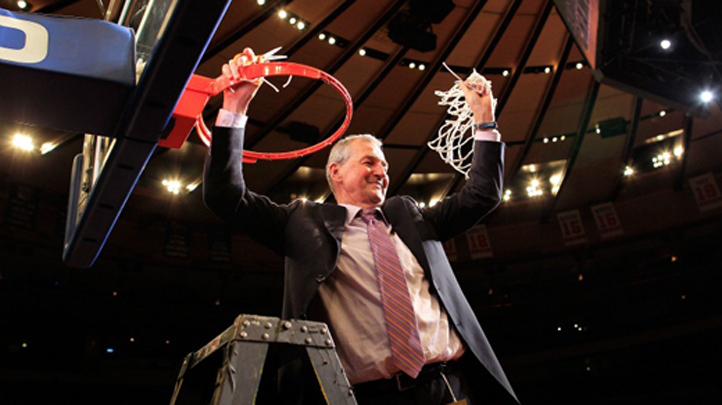 Jim Calhoun celebrates his 70th birthday Thursday. It's an age when most people are well into retirement, but Calhoun has no such plans, at least not yet. He's been the UConn basketball coach since 1986 and has won three national titles in that time, the most recent coming in 2011.

But scandal and NCAA sanctions have consumed the program in recent months, punctuated by the news that the Huskies, because of underwhelming APR scores would be ineligible for postseason play in 2013. That revelation not only hurt recruiting it played some part in the exodus of five players on last season's team -- two left the program for the NBA and three others as transfers.

In an interview with the Hartford Courant's Dom Amore earlier this week, Calhoun wouldn't get into specifics about his future with the Huskies (which has been his M.O. in recent years), but he did talk about the memories built in a quarter-century in Storrs and how they still motivate him.

"I'm not a true romantic," he said, "in the sense that I don't reminisce about old times. When someone comes in I haven't seen in a while, it will inspire thoughts of what we did together. But I'll always think of the future. When I took this job, I told my wife [Pat] I would do it about 10 years, and when I was 50 or so I could do other things. … Then 60 became the magical number. And we haven't talked about it since. I don't feel an age, quite honestly. But, A, I never thought I would [coach to 70] and, B, it just comes upon you."

New UConn athletic director Warde Manuel said recently that there are no plans for a coach-in-waiting to succeed Calhoun, Conventional wisdom had it that former Huskies guard and young assistant coach Kevin Ollie would be that person although Calhoun told the AP that "Warde and I are on the same page. We're both working for the success of the basketball program."

As for the immediate future, Calhoun admits that he didn't hang it up after UConn's improbable title run in 2011 because of the looming NCAA sanctions, both recruiting and academic.

"I know there are things I could have done better," he told Amore. "Should have done better, should have not done. But most everything I've ever tried, I tried for the right reasons. If it didn't go right, I'll fix it, but I can't change that now."

Calhoun's said many times before that he wants to leave UConn in better shape than he found it. And that's one of the reasons that, at 70, he's still plugging away.