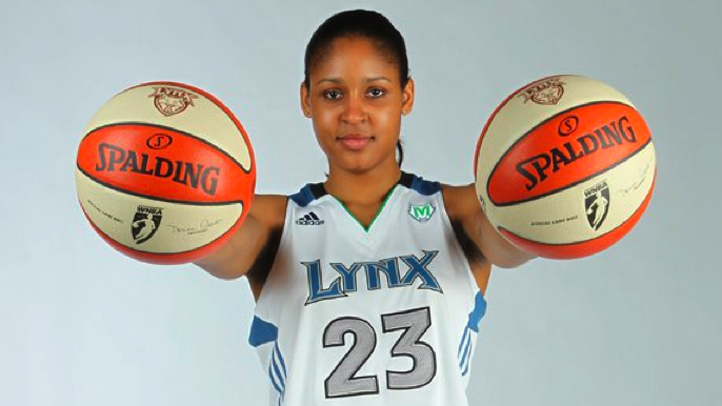 To date, Maya Moore's WNBA season couldn't have been scripted any better. A brief recap of some of her accomplishments these last few months:

* The first overall pick in the draft;
* A starter for the Minnesota Lynx from Day 1;
* Leading All-Star Game vote-getter among Western Conference forwards;
* First rookie to start an All-Star Game since 2002;
* Has one of the league's top-selling jerseys;
* Has played an important role in taking the Lynx from perennial cellar-dwellers to the best team in the West.

For a night, however, none of that mattered. And it just so happened to be the very same night Moore returned to Connecticut to play basketball for the first time since she left Storrs last spring.

The Sun (2nd place in the East) hosted the Lynx in front of the first sellout of the season at Mohegan Sun Arena (9,323). And while the venue was packed, it was the first time all season Moore was a no-show. She was there, obviously, it's just that neither she nor her teammates made much of an impact. The Sun rolled 108-79 and Moore ended the evening with two points on 1 of 7 shooting. She played just 20 minutes before taking a seat on the bench.

The Hartford Courant's John Altavilla reports that after the game Moore had an ice bag on her right foot, though Maya didn't make much of it.

"It's nothing. It doesn't bother me at all," Moore said. "You know me? I've always been the ice queen. It's no big deal. I've been playing with it for a few days. You'd be able to tell if it impacted my play."

Coming into the game, Moore was averaging 13.3 points a contest, and she dropped 26 the first time these two teams got together, a 90-67 Lynx victory on July 9. Altavilla notes that since August 4, however, Moore has been held below 10 points in eight of the Lynx's last 24 games.

Perhaps it's the rookie wall, or maybe defenses are adjusting to Moore's game or maybe she just hit a rough patch. It happens, especially for rookies.

Sun guard Renee Montgomery, who played with Moore for two seasons at UConn, scored 17 points and added seven assists in the Connecticut win. She also isn't worried about Maya.

"I don't feel bad for Maya," she said. "If she was my teammate now I might. But she's not and she still plays for the team with the best record in the league and she was an All-Star. No, I don't feel sorry for her."

And this observation by Montgomery is a microcosm of what it means to be Maya. Even when things are going bad, they're still better than what most people experience on their best days. We're guessing Moore bounces back from this because, well, that's what she always does.