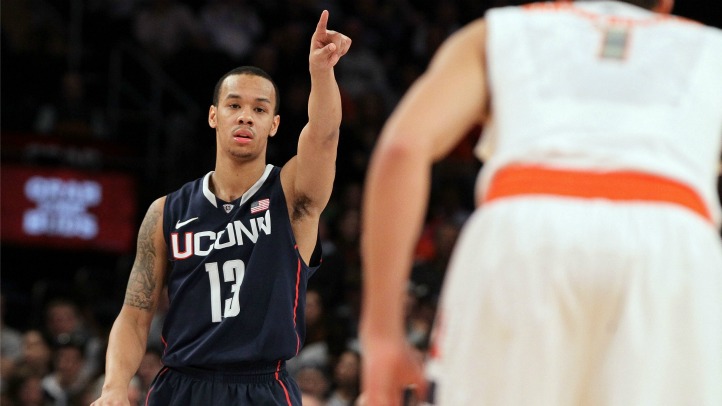 The backcourt duo of Shabazz Napier and Ryan Boatright will play a large part in determining just how good the Huskies are in 2013-2014. Napier was a freshman when UConn won the national championship in 2012, Boatright arrived a year later, and both are now considered two of the best guards in the country.

And this week, they're honing those skills at the Nike Point Guard Skills Academy in Union, NJ. And so far, so good on that front.

"They have been a delight," said John Lucas, a former NBA player and coach who was one of the instructors, told the Hartford Courant's Dom Amore. "You can see they like each other, you can see that right off the bat. You saw Shabazz come over here and talk to me, it's rare to find a young man who comes to you and asks, 'What do I need to work on? How can I get better?'"

Napier, who will be a senior next season and the team's unquestioned leader, understands that, even in basketball, knowledge is power.

"When you come to a camp like this, you've got to be a sponge and soak up all the information you can," Napier told Amore. "The biggest thing I've learned is I need to become a better leader. You've got to command respect out there. [Lucas] stopped me the first night and said, 'If you can't command respect here, how are you going to command respect from someone making $7 million?' That stuck with me."

Ultimately, this week is about preparing some of the best college guards for the rigors of the NBA. Lucas concedes that neither Napier nor Boatright are prototypical point guards (both are listed at 6-0), at least when it comes to height.

"With their size, they're going to have to be the toughest players on the court, mentally, every time they step out there," Lucas said. "We wanted them to learn spacing, to play faster, because the NBA game is completely different, everything is 10 or 11 seconds faster."

Boatright added: "The thing I got here is not to pick up your dribble until you're sure you can get the ball where it needs to go. It's a shorter shot clock and they want the ball in the point guard's hands as much as possible."

And if Napier and Boatright have the ball in their hands as much as possible next season, the Huskies should also be fine.