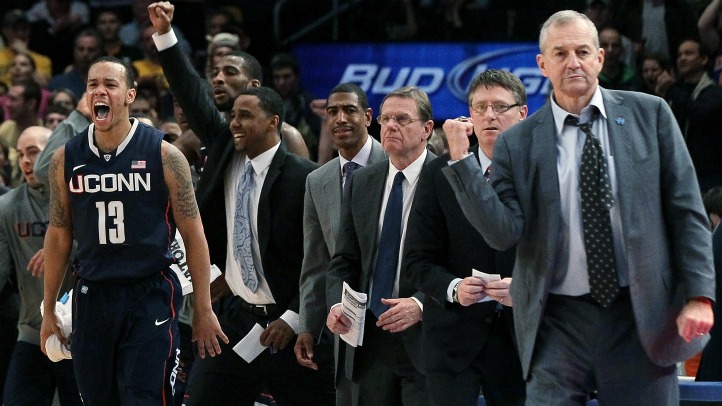 Any concerns that UConn would be on the outside looking in come the NCAA Tournament were assuaged last week after the Huskies won three of their final four games, including two victories in the Big East Tournament. On Sunday evening, the selection committee announced that UConn would be a No. 9 seed in the South Region and would face No. 8 Iowa State in Louisville this Thursday.

The winner of that game will have the honor of most likely facing the tourney's top seed, Kentucky (we're assuming that the Wildcats will beat the winner of the Mississippi Valley State-Western Kentucky play-in game).

The Cyclones (22-10) are coached by former ISU player Fred Hoiberg (affectionately known as "The Mayor"), and they are making their first tournament appearance since 2005. Iowa State was 12-6 in the Big 12 with an NCAA RPI of 33. They lost 71-65 in the quarterfinals of their conference tournament to Texas.

The Huskies, meanwhile, enter the Big Dance with a 20-13 record, including a nine losses in 12 games before coach Jim Calhoun returned to the bench for the regular-season finale after missing nearly a month with a serious back issue that required surgery. UConn was 8-10 in the conference and had an NCAA RPI of 32.

A year ago, the Huskies had just won five Big East Tourney games in five days and went from a likely No. 9-10 seed to a No. 3 seed in the NCAAs. From there, they won six in a row, with victories over No. 14 Bucknell, No. 6 Cincinnati, No. 2 San Diego State, No. 5 Arizona, No. 4 Kentucky in the Final Four, and No. 8 Butler in the championship game.

It will be a much tougher road this time around. First, there's no Kemba Walker, and second, UConn's draw isn't exactly a cake walk. Kentucky is the most athletic, explosive team in the country and they await in the Round of 32. This assumes the Huskies can get past the Cyclones Thursday.

But that's what the next three days of preparation are for. For now, we should all celebrate the fact that UConn is in the tournament. Because next year could be a different story.