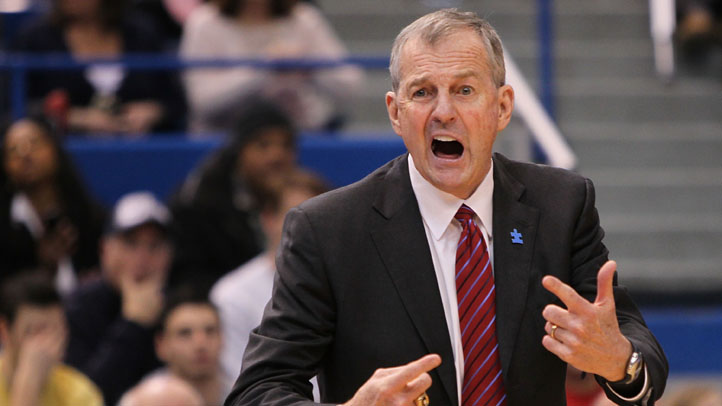 We touched on it Thursday, but Jim Calhoun, who has yet to announce his coaching plans for 2011-2012, sounds a lot like a guy who plans to stick around for at least another season.

According to the Hartford Courant's Paul Doyle, who was in Manhattan Wednesday to see the New York Athletic Club honor Calhoun, "One thing seems certain, though: Calhoun is operating as if he'll be running the program next season. His eyes widened as he talked about the prospect of using returning guards Shabazz Napier and Jeremy Lamb with freshman Ryan Boatright and he said he is searching for another player to fill the scholarship vacated by Jamal Coombs-McDaniel."

Calhoun also said that he is still looking to fill the director of basketball operations position, which became open when Glen Miller was promoted to assistant coach, replacing Andre LaFleur, who moved to Providence.

These don't seem like conversations a coach set on retiring would discuss publicly. Then again, Calhoun is 69, has been at UConn for a quarter-century, is a three-time national champion and a hall of famer. There's not much left for him to do. But -- and please pardon the cliche -- sometimes it's not about the destination but the journey. Clearly, Calhoun loves the process. He loves practice, he loves the games, he loves the kids.

Doyle adds that "Calhoun is also concerned with the future of the program. Calhoun said he loves the people running the program, from newly elevated assistant Glen Miller to rising star Kevin Ollie. He also said he is impressed by [incoming UConn president Susan] Herbst and said [she] has asked him to stay for another year or two."

Two years ago, after UConn lost in the Final Four to Michigan State, Calhoun told Sports Illustrated's Seth Davis "If we had won the championship last year I was going to retire." Later Davis told his wife that he didn't believe Calhoun. "That man is going to die on the sidelines," he said.

Which gets back to our point above: accolades and recognition are nice, but sometimes coaches just want to coach.

Then there's this, from CBSSports.com's Gregg Doyel, written days before the Huskies defeated Butler to win the national championship.
Nothing about the man is easy. He's stubborn, competitive and combative. Assuming UConn beats Butler on Monday night, everyone will tell him it's time to retire. Which probably increases the odds that he won't. You don't tell Calhoun what to do. Remember that time in 2009, when a camera-loving political activist wanted to know how Calhoun could happily cash his checks for $1.6 million in a year when the state economy was in the garbage can? The activist couldn't even finish his question before Calhoun bellowed, "Not a dime back!"

Don't ever tell Jim Calhoun what to do.
Calhoun is an infrequent traveler on the path of least resistance. And let's be honest: despite the national title, the basketball program's future isn't particularly rosy. The NCAA punished the program in February for recruiting violations and could be handing down more sanctions next week. Currently, the Huskies have just one incoming recruit capable of contributing as a freshman, and they just lost Jamal Coombs-McDaniel, a valuable player off the bench.

But Calhoun has overcome stiffer tests; the man beat cancer, after all. And while he won't coach forever, Calhoun -- not Ray Allen or Richard Hamilton or Kemba Walker -- is the face of UConn men's basketball. We can't imagine him walking away just yet.