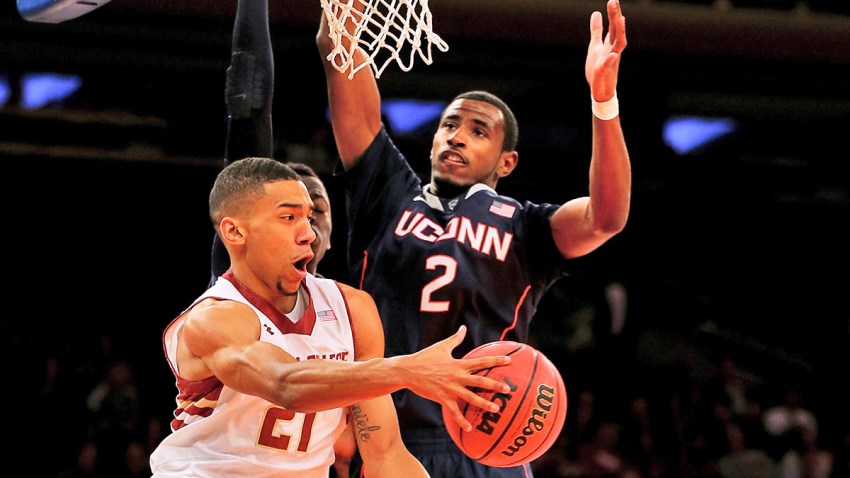 It wasn't pretty but it counts all the same in the win column. 18th-ranked UConn outlasted Boston College Thursday night, 72-70 to advance to the finals of the 2K Sports Classic finals against Indiana Friday.

It was the first time the long-time rivals had met since 2005, back when both teams were in the Big East, and it proved to be one of their best. Ryan Boatright had to convert two free throws with just under eight seconds to go, and then he blocked three-pointer to stave off a buzzer-beating Eagles win.

"That was like an old BC-UConn rivalry," Connecticut coach Kevin Ollie said. "Coming down to the last possession like that. We gutted out a win."

As for Boatright, who scored nine points on the evening, Ollie said: "Ryan's block was a phenomenal play. He was able to use his athleticism to jump up. The kid didn't have time for a pump fake."

Junior forward DeAndre Daniels led the way with 23 points and six rebounds (remember when he struggled in the team's first two games?), senior point guard Shabazz Napier added 20, and Boatright had a career-high two blocks.

"He did a lot of things for us tonight," Ollie said of Boatright. "He had a great floor game. I know he wanted to score a little more, but the game is going to dictate that and when that does you have to play for your teammates. He can explode at any time and I know he'll be ready for tomorrow and we'll play better offense than we did tonight."

UConn lost the rebound edge 32-33, but they only committed three turnovers in the game.

"I tell our guys if we are under 10 turnovers, the coaches have to run sprints," Ollie said. "I guess we owe them seven when we get back."

UConn heads into Friday's meeting with the Hoosiers with a 5-0 record.