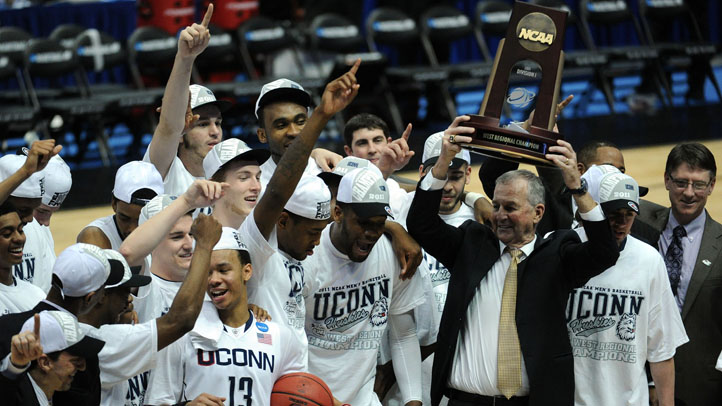 Nine days. That's when ESPNU's Midnight Madness kicks off, marking the return of college basketball. For the Huskies men's team, it means the first step in their national title defense, one that will include coach Jim Calhoun (he didn't retire!), and freshman Andre Drummond, two names that were far from certain to be a part of the program as recently as this summer.

ESPN's ever-expanding coverage will include 11 separate Midnight Madness events including, of course, UConn. According to the press release, "On-site commentators will provide coverage of various elements including scrimmages, player introductions, skill and dunk contests, team skits, head coach and player interviews, along with season previews. … No. 1 North Carolina, No. 2 Kentucky, No. 4 Syracuse, No. 5 Duke, No. 6 Connecticut, No. 9 Louisville and No. 20 Texas A&M will be featured live on ESPN3."

For the Huskies, the madness starts a tad earlier than midnight; ESPN's coverage begins October 14 at 7 p.m. ET on ESPNU and ESPN3 in Gampel Pavilion.

ESPN.com college basketball analyst Andy Katz provides a pre-Midnight Madness "questions facing each team heading into the season" primer, and for the Huskies he writes:

"How will the Huskies balance Andre Drummond and Alex Oriakhi next to each other in the post? Will Ryan Boatwright be able to push Shabazz Napier at the point? Will DeAndre Daniels add depth or could he be a replacement for Roscoe Smith? Will it be obvious that Jeremy Lamb is the clear go-to player?"

To answer Katz's inquiries: 1) easily and happily, 2) no but he'll provide valuable depth, 3) to be determined -- either way a good thing, 4) YES.

Either way basketball is almost upon us. And in that sense, we all win.