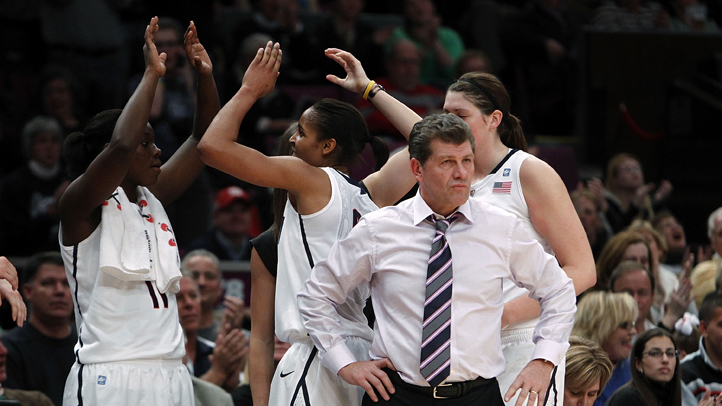 The UConn women's basketball team finished last season 36-2 losing to Notre Dame in the Final Four. For most programs that's a great run. For the Huskies, seven-time national champions under coach Geno Auriemma, it's a disappointment.

But the players aren't sitting around feeling sorry for themselves -- Auriemma won't allow it -- they're back to work with one goal in mind: winning it all next season.

The Huskies lost Maya Moore to graduation, but even with the best player in the country headed to the WNBA, there is no panic in Storrs. Rising senior Tiffany Hayes has assumed the role of team leader, and she will be joined by returning starters all-everything guard Kelly Faris, center Stefanie Dolson and point guard Bria Hartley. Plus, Caroline Doty and Heather Buck should be healthy and ready to contribute.

But there's more (of course there is, this is UConn): according to ESPN, the Huskies have the No. 2 recruiting class for 2011-2012. It includes 6-0 sharpshooter Kaleena Mosqueda-Lewis (the 2011 class' top-ranked player), 5-9 guard Brianna Banks and 6-3 forward/center Kiah Stokes.

But for one ESPN.com writer, none of this can overcome the loss of Moore. Last October, the Huskies were the preseason No. 1 in both the AP and ESPN/USA Today coaches poll. More than six months out from the start of the 2011-2012, ESPN's Charlie Creme ranks UConn No. 6 in his very early preseason poll behind Baylor, Tennessee, Notre Dame, Texas A&M, and Stanford.
"Despite four starters returning, the Huskies might be the most different looking team in the history of the game," Creme writes: "No Maya Moore will take some getting used to. However, Hartley, Faris, Hayes and Dolson will have another No. 1 rated player to pass to in 6-foot freshman scorer Kaleena Mosqueda-Lewis. She heads HoopGurlz's No. 2 recruiting class, which Geno Auriemma desperately needed to replenish his numbers-depleted roster. Dolson also gets some much needed help down low in 6-3 Kiah Stokes, and then there's left-handed guard Brianna Banks, the No. 24 overall recruit. The UConn-Notre Dame battles for Big East supremacy might be even better this coming season."

Ultimately, preseason rankings don't mean much. If nothing else, Auriemma can use it as motivation for his players. Although I suspect falling short of the national championship will be plenty motivating in the coming months.