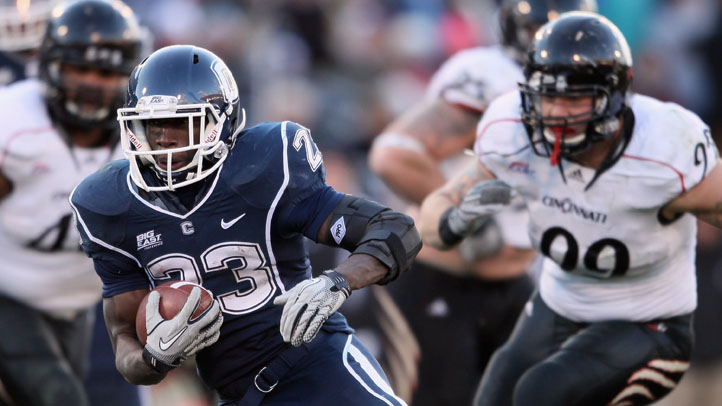 On Wednesday we brought you the sobering news that UConn Football ranked as the worst BCS Bowl team in the last six years. Still, at the end of the day, the Huskies were 2010 Big East champs, no matter what any numbers other than wins or losses might suggest.

And if nothing else, it points to the admirable job former coach Randy Edsall did with less than nationally renowned recruiting talent. Of course, it also speaks to Edsall's mediocre recruiting chops, something Paul Pasqualoni appears determined to improve.

SB Nation's Bill Connelly goes through the task of breaking down UConn's 2010 season, painstaking play by painstaking play, to give us an idea of where the Huskies have been and where they're going.

Connelly on the '10 squad:
After an 0-2 conference start that included an unimpressive trip to Rutgers and a pummeling at the hands of Louisville, UConn just won. They didn't often look pretty doing so -- only once in the last half of the season did they play what anybody would call an above average offensive game -- but they won, by three points over West Virginia, two points over Pittsburgh and three points again over South Florida.
And what we can expect in '11 from the UConn offense:
Close your eyes and picture the generic Syracuse offense of the 1980s and 1990s. Are you envisioning high run percentages, slower pace, bruising halfbacks, mobile quarterbacks and play-action bombs? That could be what you are about to see from UConn this season, as Pasqualoni has more-or-less gotten the old band back together.
Connelly acknowledges what the rest of the world already knows: the Huskies don't have any depth at running back. But he notes that "The backfield is devoid of experience, but the line is good, and ... let's face it, this personnel wasn't exactly brought to Storrs to run the spread under Edsall."

Then there's the uncertainty at quarterback, which explains a heavy reliance on the running game.

Looking ahead, Connelly predicts the Huskies' four-year national ranking to be 40th, and their five-year recruiting rank to be 80th. Not great, but also not bad for a team not far removed from Division I-AA.

While all the ideas aren't new -- we've been talking about the QB and RB depth chart for months now -- Connelly's approach is. He uses comparative stats to explain the 2010 season and to project how things might play out in 2011 and beyond. If nothing else, it provides a different perspective on an old story.