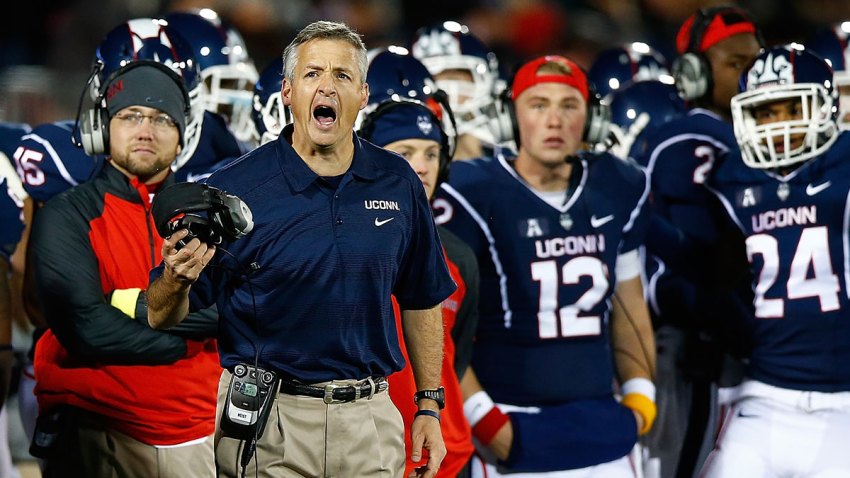 It's going to be an interesting few weeks for the UConn football program. The 3-9 season is in the books and now the real work begins; athletics director Warde Manuel must now go about finding a full-time head coach. He fired Paul Pasqualoni in late September after the Huskies stumbled to an 0-4 start, and he was replaced by offensive coordinator T.J. Weist, who led the team to three straight wins to end the season.

But Weist's future in Storrs remains up in the air even though he would love the job -- and thinks he's still in the mix.

"I talked to Warde [Sunday] morning," said Weist, according to the Hartford Courant. "He really didn't give me a timeline. We had talked some but I'll let Warde handle it how he wants to handle it."

Not surprisingly, Weist was happy that Manuel put off the coaching search until after the season, instead of having it loom over the program for the final two months of the schedule.

"I respect the decision; I obviously agreed with it," Weist said. "I think it allowed our staff and me and the players to just focus on the season and not worry about any of the other things that go on."

Manuel would like to come to a decision sooner rather than later.

"Look, I'm well aware of the jobs that are open, well aware of other places people might be interested in that are in my pool of candidates," Manuel said. "When I sit down, I'm not interested in playing back and forth with people. I don't play games. You make a choice. This is what UConn has to offer and people make the decisions they make. I'm so pleased with where we are in the pool of candidates that if one or two are not available it is what it is at that point."

Manuel said he'll be open-minded about the candidates -- with one exception.

"I think I saw 27 of 31 open jobs last year went to coaches with offensive experience," he said. "I'm equal opportunity, with the exception of special teams coordinator. No offense to special teams coordinators. But I'm open to both sides of the ball. Both [Manuel's hires at Buffalo] came from the offensive side, but that is no indication I'm an offensive-minded AD."

CBSSports.com reported Sunday that UConn had requested permission from Michigan State to talk with defensive coordinator Pat Narduzzi.